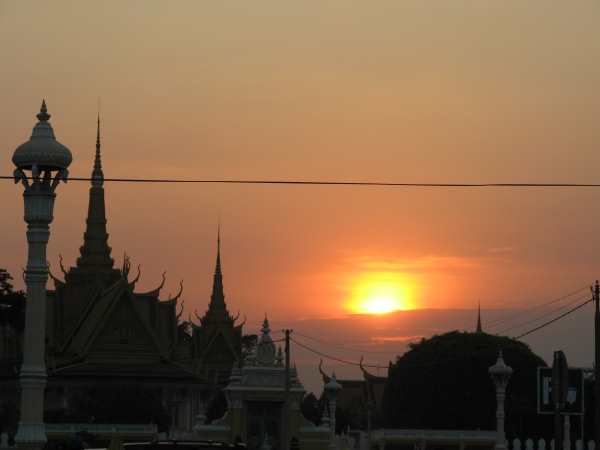 In January 2011 I visited Cambodia with my parents. I had made my first trip to Cambodia the previous year and was thrilled that I now had the opportunity to introduce Mum and Dad to my new Cambodian friends and this wonderful country. Mum and Dad are in their early and late 70's respectively, and have a few health conditions as you might expect at that age.
Here are a few things to consider when travelling with older parents.
I highly recommend that anyone over 45 yrs wear flight stockings for long haul flights, to prevent Deep Vein Thrombosis. At 47 years, I now include myself, as I had swollen lower legs for several days after my long flight to Cambodia in 2011. Many pharmacies now sell them and they cost about US$30-40.
Most guest houses in Cambodia do not have lifts so if your parents have mobility issues, make sure you can get a room on the ground or first floor. I had stayed at our guest house (Le Rits Boutique Hotel and Restaurant) previously so I knew that it would be of a standard that they would be comfortable with. An alternative idea would be for your parents to join you after a few days or weeks, depending on your time frame. That way you get to enjoy some holiday time to yourself first, and you have time to sort out any accommodation issues before they arrive.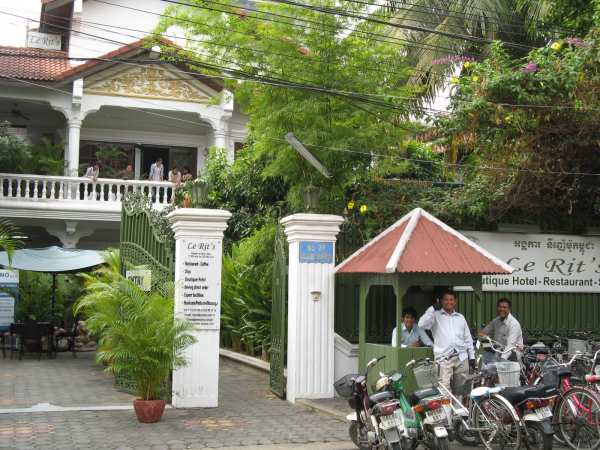 Make sure that the guest house has air-conditioning. We were in Cambodia in late January-early February which is the drier and cooler time of the year. Despite this the daytime temperatures are typically 33 degrees C (90 F), cooling off to mid-late 20's in the evening. Your hotel or guest house room is your oasis at the end of the day. You do not want to be overheated and uncomfortable. I would not recommend bringing elderly parents to Cambodia after March as it is just too hot and humid. I don't think I could cope with it myself. The hot rainy season ends in October.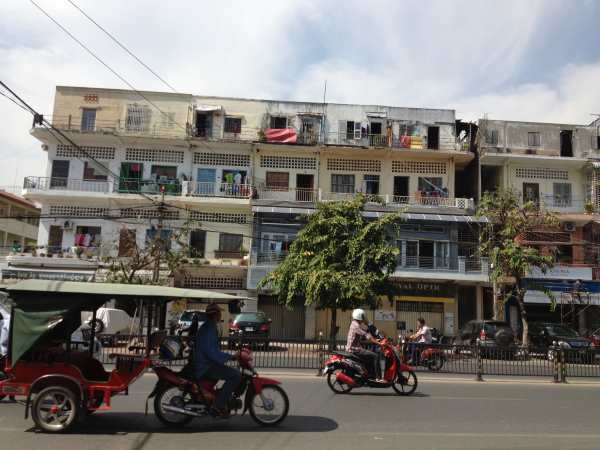 Don't try and do too much in one day. Even the younger ones of us find it tiring out in the heat of the day. I would suggest that you make an early start each day when visiting the markets and the tourists spots. Then return to your guest house for a late lunch and a siesta. If your itinerary permits, have one or 2 days off from sightseeing. My Dad is into his amateur photography so he likes nothing more than walking the local streets, snapping phoyos, meeting the locals and discovering new bakeries!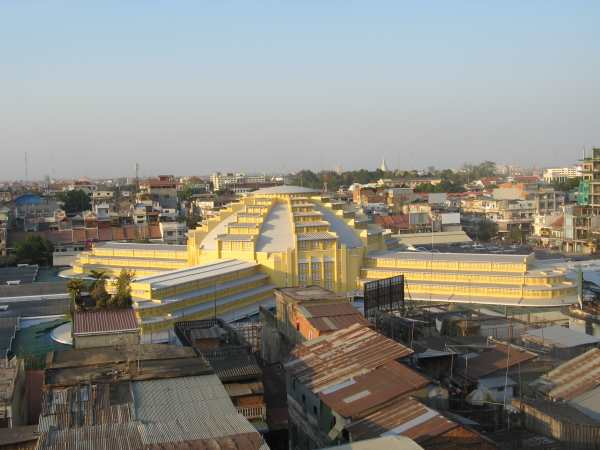 The Central Market – a must-see, for it's architecture at the least!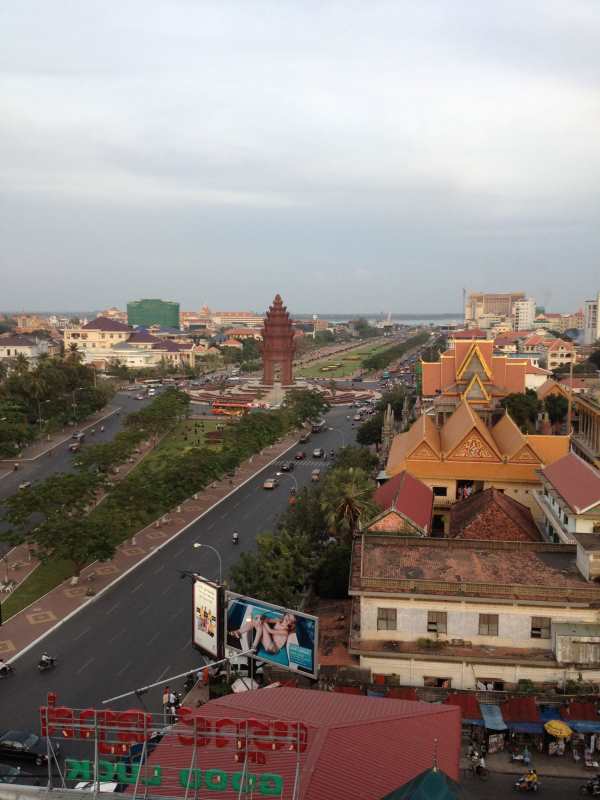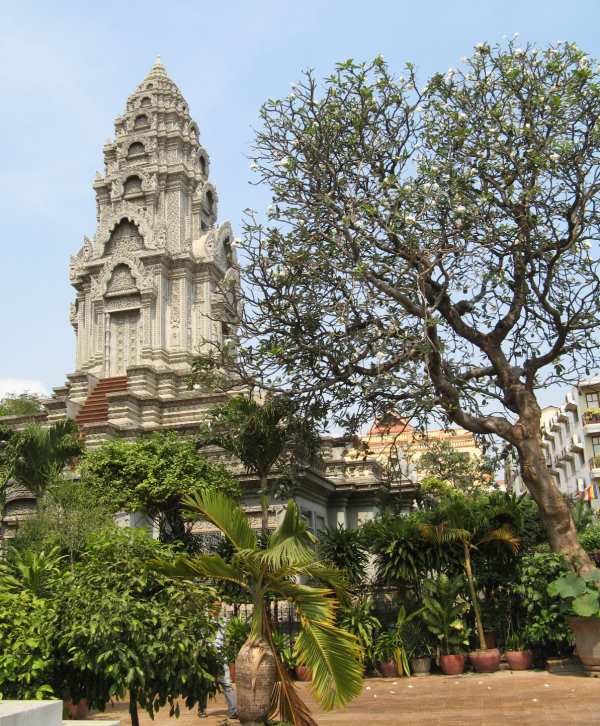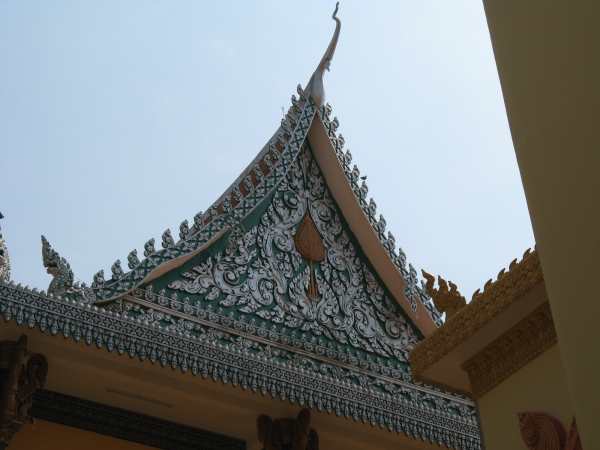 It is great to try the local cuisine but one can tire of it after a few days. It's not long before you crave western food. One of my favourite places to escape from the heat and chaos of Phnom Penh's streets is Jars of Clay, next to the Russian Market. It is a lovely air-conditioned cafe and restaurant on the ground and first floor. Typical of Cambodian buildings the stairs are narrow and steep so take care. It is run by a NGO that supports young women so it is nice to know that profits are going to a good cause. There are many other great options for western food such as the famous NGO-run Friends restaurant. Check them out on TripAdvisor.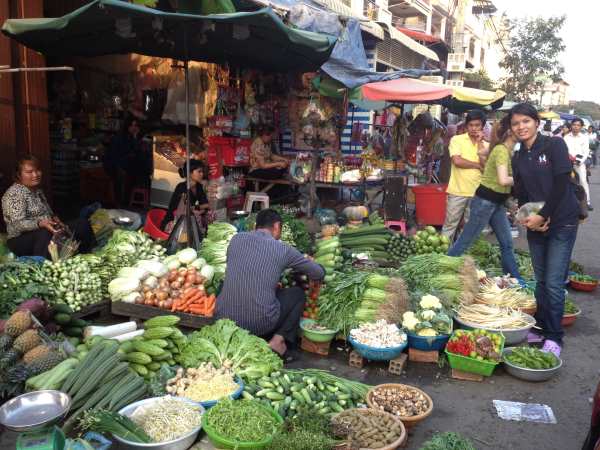 A local market.
Buses from Phnom Penh to Siem Reap are air-conditioned, cheap (approx. USD $7) and comfortable but most of them do not have toilets on board. The journey takes 5 hours with only 2 toilet stops along the way so bear this in mind. At Siem Reap don't attempt to walk or cycle between temples as the the temple complex is enormous. Rent a tuk tuk (usually organised through your guest house or hotel) and head off early in the morning. You'll get to see the sun rise over the temples and you'll get a good portion of your sight-seeing done before it gets too hot. Return to home base for a siesta and go out again in the late afternoon.