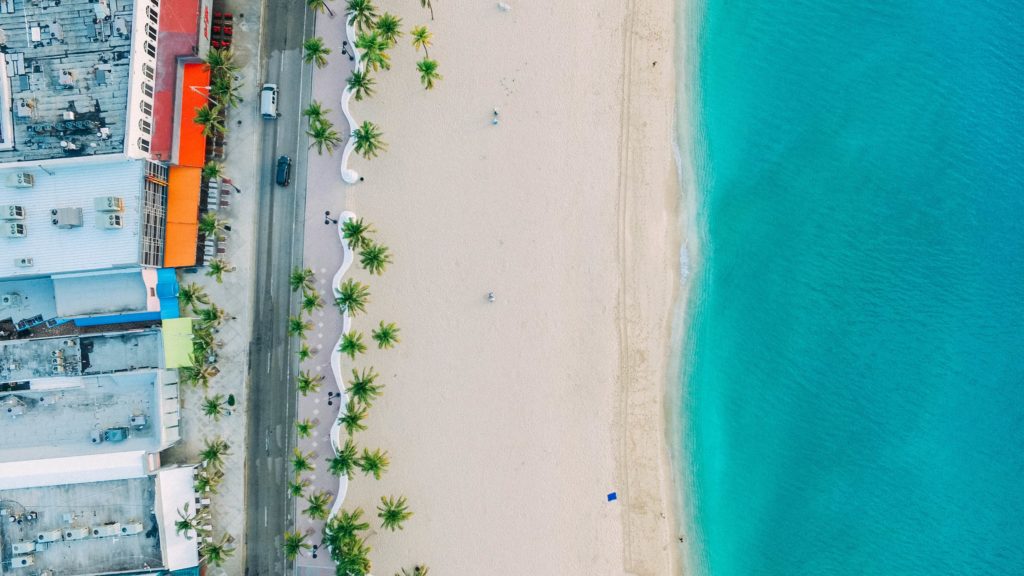 UK Winters can be bleak and long. More and more Brits are escaping to the US south-east for a winter holiday in the sun! Florida is a popular year round destination due to it's consistently warm air and water temperatures, and Miami/Fort Lauderdale/West Palm Beach all have great beaches and are exciting places to explore for several days. Consider this – even in January (which is the coldest month in Miami) the average daily temperature is about 25C and the water temperature is approximately 20C, nearly 2 degrees warmer than Brighton Beach in July! Florida's heat and humidity in the summer months can be too much for those not to it, so the best months for Brits to try a Florida fly-drive are November through April.
The following are some of the highlights of a stopover or holiday in Miami.
Architecture
I just happen to be in Miami/Fort Lauderdale as I write this article, and it's just over a month since Hurricane Irma struck the Florida region. I am amazed at how quickly the city has bounced back from this setback, and just as well since tourism is it's life blood. Apart from neat piles of fallen branches dotting the berms of residential streets ,the odd uprooted tree, extra seaweed flotsam and undermining of sand banks on some beaches, there is little evidence of this major weather event. Since the advent of Hurricane Andrew in 1992 the building codes are much more stringent and the buildings are much better at withstanding high winds.
Speaking of hurricanes and destruction, the reason why Miami is famous for it's Art Deco architecture is down to the Great Miami Hurricane of 1926 which leveled much of the city. In the wake of this disaster many of the new buildings were built in the new style of the day – Art Deco. Today, the best preserved examples are within a 1 square mile area of South Beach and include the Cavalier and Park Central Hotels, and the Carlyle, all on Ocean Drive.
Beaches
You really can't go wrong. From Key Biscayne in the south, all the way up to West Palm Beach you are assured of white sand beaches and warm Atlantic water. If you prefer to walk rather than lounge on the beach, the 4 mile long Miami Beach Boardwalk between 5th and 46th Streets provides exercise, great people watching and views of the beach.
Wynwood Walls
The neighborhood of Wynwood has become famous for it's street art. Some of the world's leading street artists have contributed to the vibrant, colorful wall and door murals. As well as the free street art there are micro breweries, art galleries, cafes and bars so you can imagine it is a very pleasant place to while away a few hours.
Vizcaya Museum and Gardens
Over an 8 year period from 1914 industrialist and businessman James Deering had this gorgeous Italian Renaissance mansion and gardens built and developed on Bicayne Bay. The villa still has it's original furnishings and is full of antiques from the 15th to 19th centuries. It is a great example of how the wealthy lived in the early 20th century before the Great Depression. One of the really cool things at Vizcaya is it's unique swimming pool grotto with aqua-marine water and a ceiling mural by Robert Winthrop Chanler.
Miami Zoo
For animal lovers there is nothing more enjoyable than visiting this wonderful zoo with it's tropical setting. A great way for the family to see everything without getting too tired is to hire a safari cycle. The Zoological Wildlife Foundation, a much smaller animal sanctuary for rescued animals also comes highly recommended. you have to book ahead for this as it is by appointment only.
N.B I haven't done it myself but my parents did an Everglades tour a few years back and they found it underwhelming.
Image by Lance Asper via Unsplash