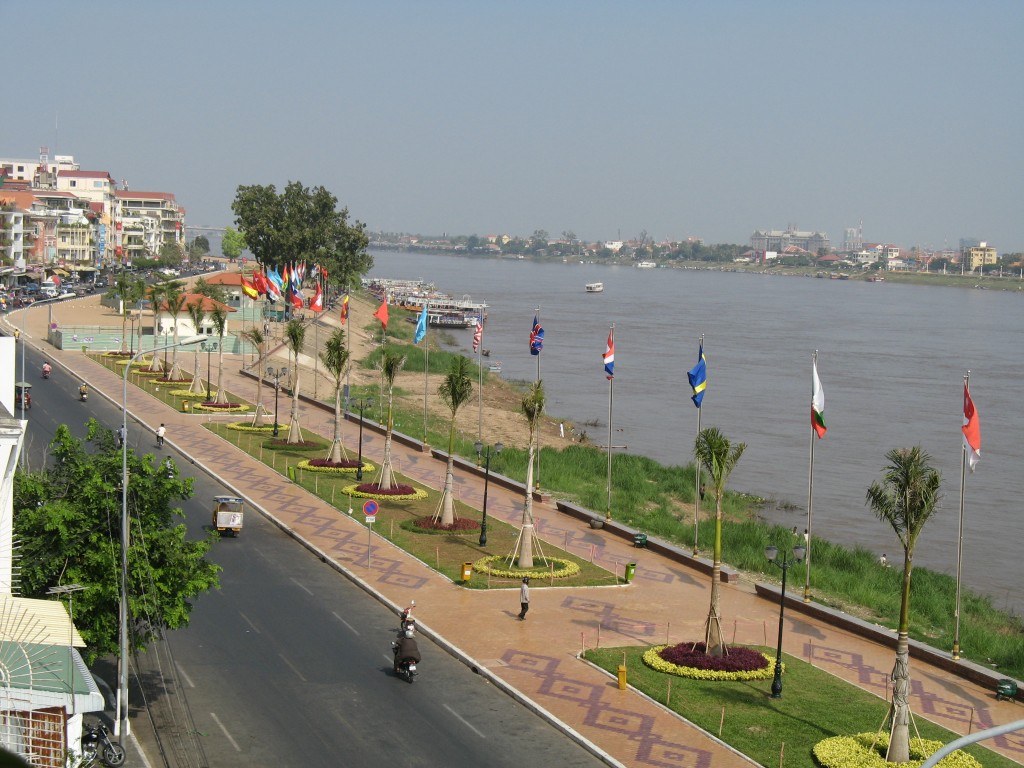 I have been visiting Cambodia annually over the last 5 years to do volunteer work in Phnom Penh for a month each time. It has been an extremely humbling and rewarding experience and I would encourage anyone contemplating volunteering to go ahead and do it. I have met so many amazing Cambodian people during my visits here and many have become life-long friends.
In January-February 2014 I was in Cambodia for 5 weeks and this was my expenditure over the first 2 weeks.
Accommodation $320
Transport $15.5
Food/Drink $141
Miscellaneous $11.30
Total $ 487.8
Accommodation
On my first visit to Phnom Penh I stayed at a guest house down at the Riverfront ( also known as Riverside) where the majority of tourists like to stay. It is an exciting place to be with many restaurants and tourist shops, the Royal Palace and National Museaum, the Silver Pagoda etc to visit, and the river promenade to stroll along.
Phnom Penh is a densely populated, chaotic city and it can be quite a culture shock to the average western visitor. At the end of a busy day volunteering I just want to retreat to a quiet, secluded guest house and relax. These are found further back from Riverside with many lovely ones in the vicinity of the Independence Monument ( between Monivong and Norodom Boulevards between streets 240 and 310).
During this visit to Phnom Penh I volunteered in the poor neighbourhood of Stung Meanchey which until recently was infamous for it's rubbish "dump children". I chose to stay in a simple guest house close to the Russian Market and within 15 minutes tuk tuk ride from my workplace. Because I volunteered for 5 weeks and paid for my airfares, accommodation and food I wanted to stick to a tight budget. I found the Chea Samnang II Guest House online for US$20/night and booked the first 2 nights to see if I liked it. This was a good idea because when I chose to stay on for 2 weeks I was able to negotiate a lower price of US$15/night. For this price I got a small room with a large window, double bed, wardrobe, 2 chairs, flat-screen TV, free Wi-Fi, 2 small bottles/water per day and fresh towels and room service on request. The down side of staying at a cheap guest house is that the staff didn't speak English, however they were lovely and we got by.
Transport
I was very fortunate that the NGO (Charity) I volunteered for picked me up from the airport (saving me about $9-10) and provided me with tuk tuk transport to and from my volunteer work. Without this assistance I would think most tourists would budget for US$6-12/day on tuk tuk transport. Moto taxis cost about a third as much but this is a pretty risky form of transport, especially if an helmet is not provided for you. I only had to pay for a few tuk tuk rides myself as my Cambodian friends provided me with transport when we went out together.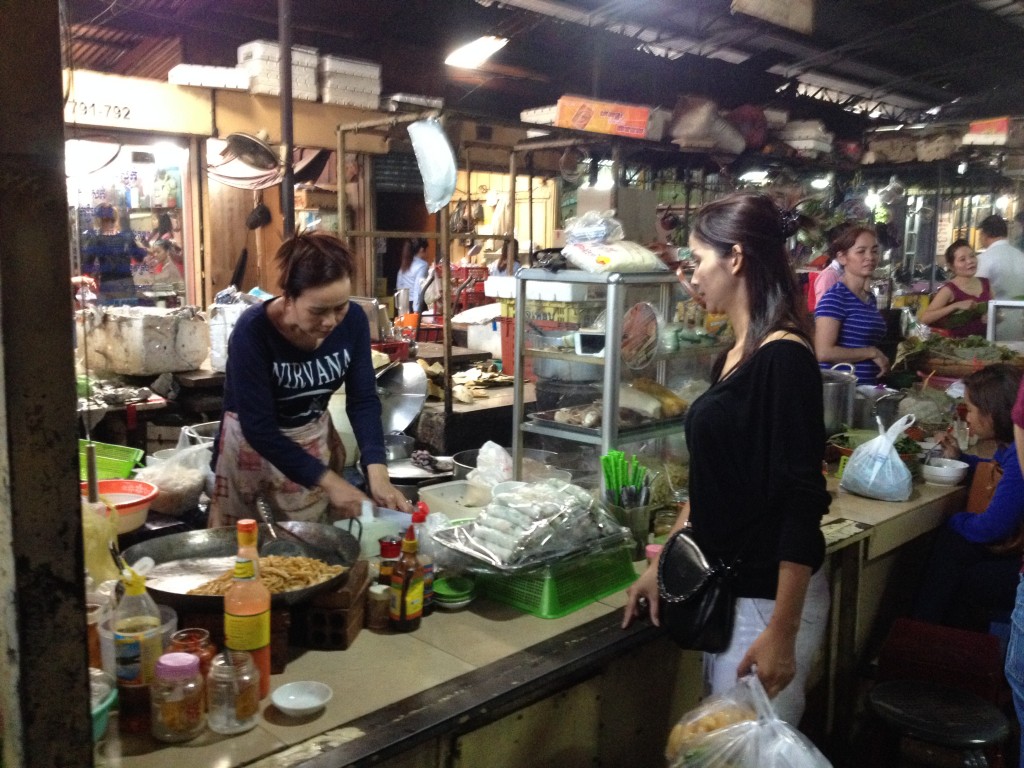 Food
My guest house allowed me to use the small fridge down in their reception area. I purchased my own milk, yoghurt and cereal for my breakfasts. Most days I bought lunch at a stall in the Russian Market. A plate of fried noodles with vegetables and beef cost me US$1.25. Two fresh spring rolls cost US$1.50 and a bowl of rice porridge chicken soup cost about US$1. I took 2 friends out for dinner a few times which averaged out at US$22 for all of us.
Miscellaneous
I always buy a Sim card when I'm Cambodia so that I can call my friends, work associates and my tuk tuk driver. The card is only a few dollars and I spent U$4 on calls and texts over the 2 weeks. I talked to loved ones at home via Skype.
I find it very disturbing that you can buy almost any drug you want at pharmacies in Cambodia without a prescription e.g antibiotics. During my first 2 weeks there I spent US$0.75 on 10 Ibuprofen tabs for period pain and US$2.5 on Otrivine decongestive nasal spray for a cold.