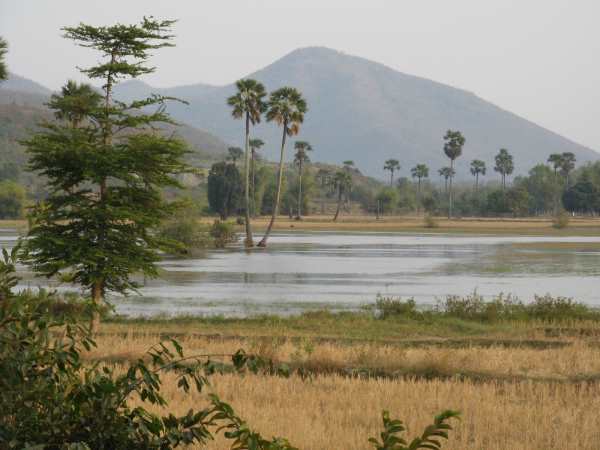 The thing I love most about travelling is meeting the local people. I have been visiting Cambodia annually over the last 4 years and have been lucky to make some life-long friends along the way. One Cambodian family in particular has become part of my extended family and kindly invited me to stay with them in 2011 and 2012. They live in a 4 storey terraced house in the heart of Phnom Penh. It is one room wide and has a steep narrow stairway that climbs passed the bedrooms to the rooftop which has a roof but no sides. This is where the family hangs out the washing. The small kitchen, dining and living areas are on the ground floor and are separated from the garage by a glass folding door. The car and moto are locked behind a heavy iron gate which also serves as the front door. My friends have 2 children and live with his parents. Such was their hospitality that they insisted on vacating their bedroom for me as it was the only room that had air-conditioning! I observed and joined in on their daily activities such as buying fresh produce from the local market and eating together on a mat on the floor which is the traditional Cambodian way. My friends' passion is to learn English and we had a lot of fun with me teaching them English expressions such as, sitting around and "chewing the fat".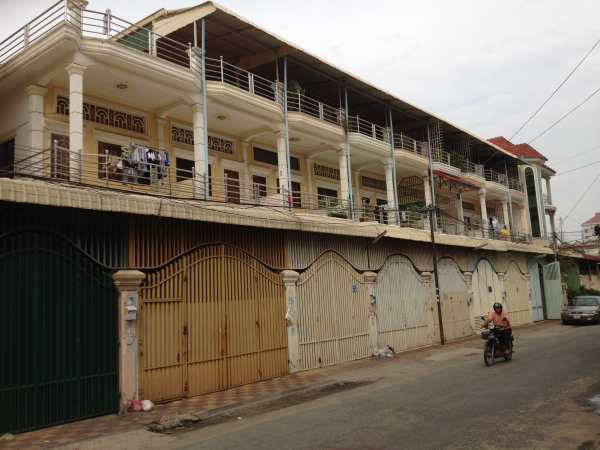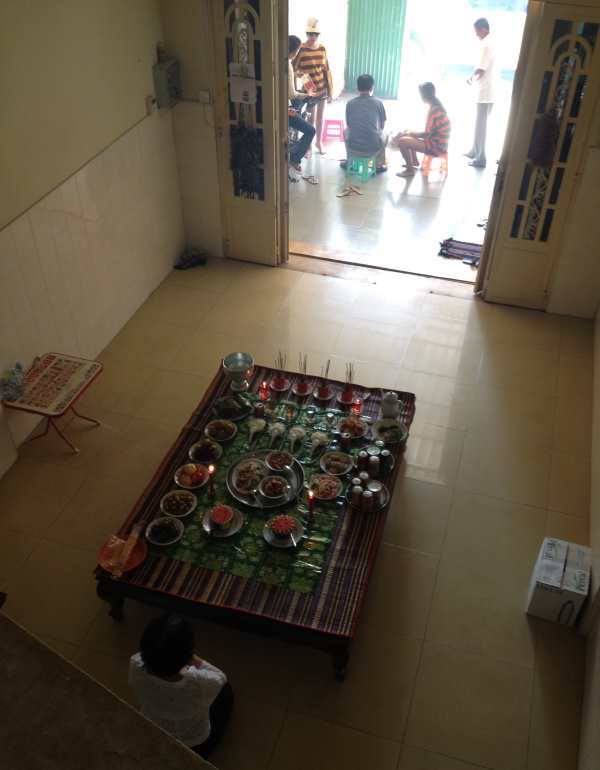 My "Welcome" lunch in the front room of the house. View from mezzanine bedroom.
One weekend they decided to take me for a drive and picnic lunch somewhere special to them. Wanting to show off some of the local countryside they decided on a former royal family mountain retreat in the province of Kampong Speu. It was 2-3 hours drive from Phnom Penh – a long way to go on a hot day for a picnic. I was relieved the car had air-conditioning or I think I would have expired! For the first 1-2 hours we travelled on various highways and it was a curious thing that we were stopped about 5 times to pay tolls. It seems that sections of highway were built by private companies (some up to 40 years ago) who continue to recoup their costs many years after completion under the pre-text of road maintenance.
Once out in the countryside we enjoyed stopping at a few fruit stalls to sample and buy Jack-Fruit, Papaya and candied Tamarind. Along the way we saw many Eucalyptus trees that reminded me a lot of Australia. The rice had been harvested about 1-2 months before and so the fields looked a bit spartan and dry. At the entrance to the national park we were stopped by a guard and asked to pay US$5 per person entry fee. My hosts think he had seen foreigners in the car and thought he'd take advantage. They had never had to pay before. They called his bluff and asked him for a receipt and he immediately reduced the charge dramatically. Like most people in Cambodia security guards and even policeman are poorly paid and so they find these other ways of making a living!
The "mountains" were not what we in New Zealand would call mountains but the hills had a nice variety of trees, including some flowering ones.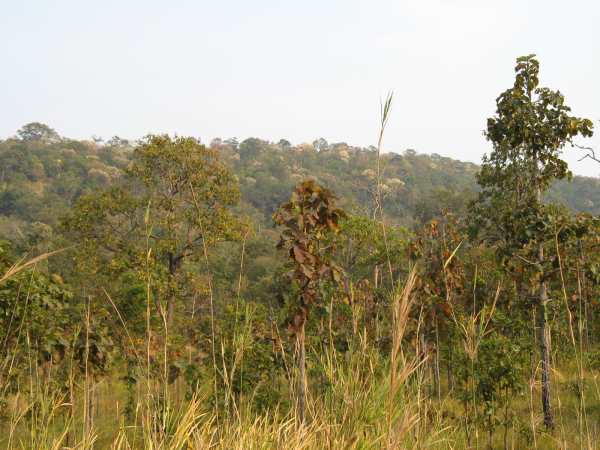 As is typical of the Cambodian countryside the road was pot-holed and difficult to negotiate. At the top of the mountain we stopped at a roadside food area where there were stalls selling BBQed fish, cured meats and scrawny poultry, as well as various condiments. I enjoyed a dessert snack of banana covered in sweet sticky rice and wrapped in banana leaf which had been BBQed -delish!
My friends bought some fish and chicken to go with the rice they had brought from home. Proceeding further along a pot-holed dirt road we finally turned off at a "water-fall" area where we were to have our picnic. In Cambodia you pay a few dollars for your picnic site which is typically a raised shelter made of wood with a flax roof, and it has a large mat to sit on.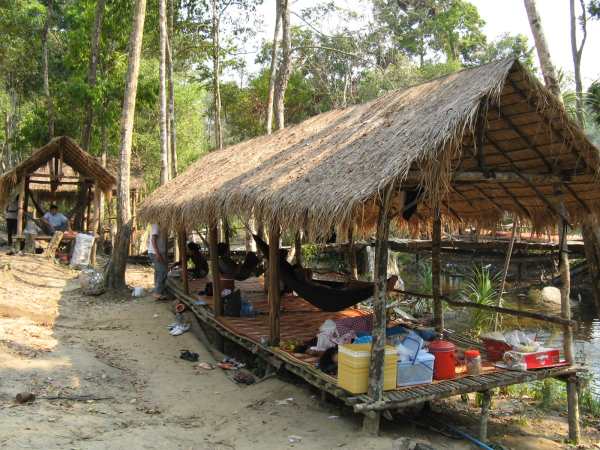 The river we had come all this way to see was barely a creek and the waterfall was about 2 feet high! Along it's edge were about 15 little bamboo shelters where visitors sat and had their picnicks. It distressed me to see so much litter around the shelters and down the bank. The local people obviously have the view that if they have paid for their picnic site then they have also paid for someone else to pick up their rubbish! Despite this the water in the river seemed clean and I did enjoy going for a paddle in the cool water. Later, as we drove back through the national park we passed a lake with old abandoned picnic shelters. It looked haunting and rather beautiful, don't you think?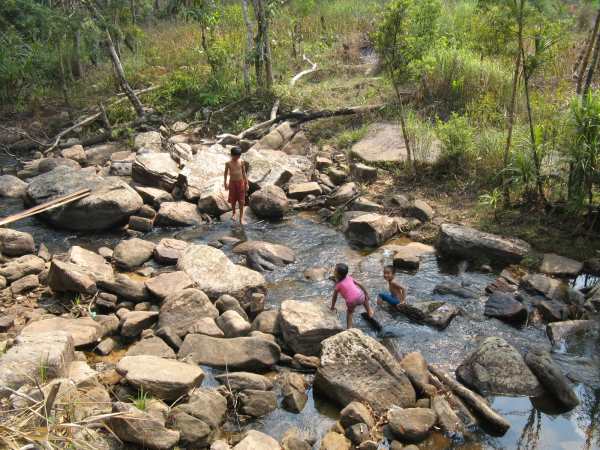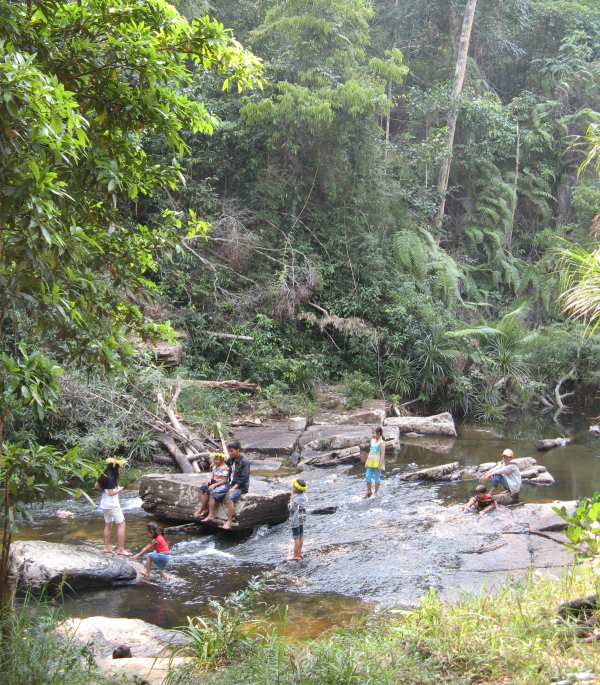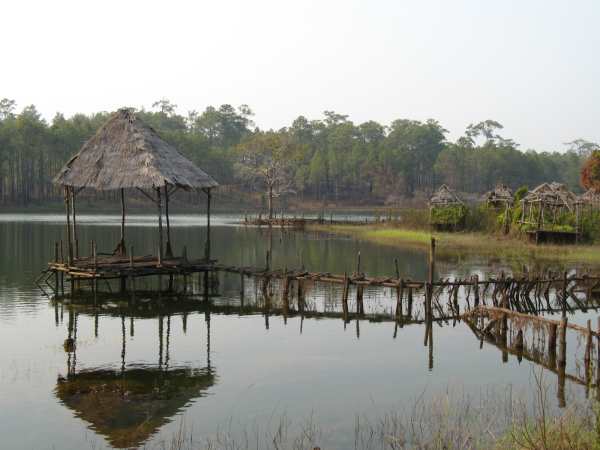 I am sure that I am coming off as being a bit ungrateful and judgemental as I describe our day's outing. I guess it just struck me how spoilt and lucky we are in New Zealand to have such an abundance of natural beauty that we often take it for granted. There are fewer examples of natural beauty in Cambodia, as evidenced by the fact that the people of Phnom Penh will drive 3 hours to visit a place like I've just described! Having said that I love the scenes of the countryside like the one below.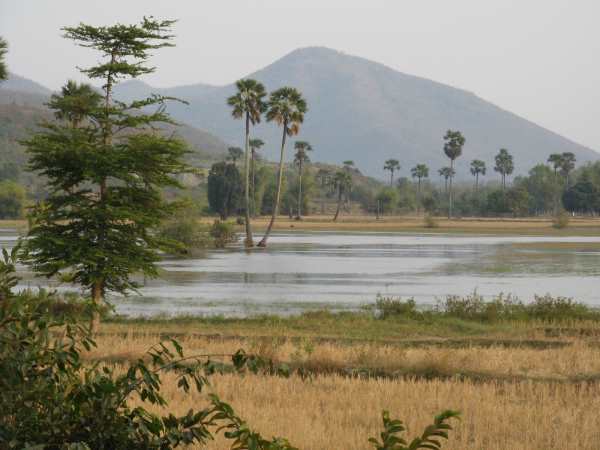 On the way back to the city we passed many minivans crammed with factory workers returning home from work. There would have been at least 20 people inside each van, and many vans had about 12 or so people perched on the roof, holding onto railings!! The vans would have been travelling 60 kph at least! Our car had seat belts but no buckles to click them into! This is quite disconcerting when you've got cars crossing on the wrong side of the road and coming at you in all directions. I tell you we don't know we are born in NZ!