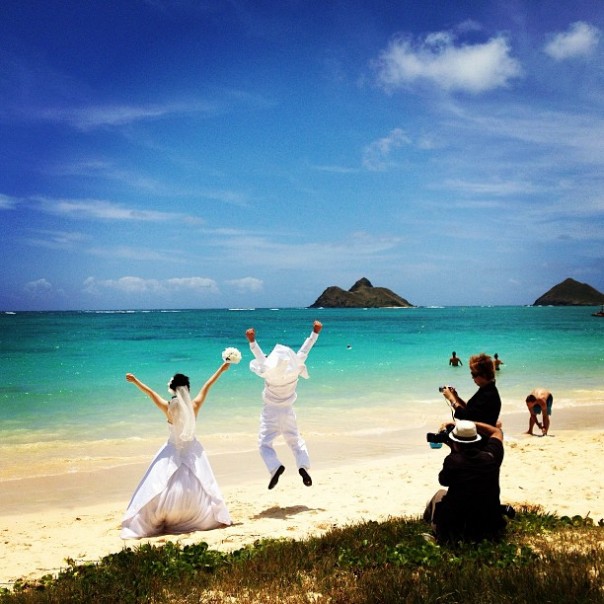 1. Take a portable tripod.
I read a new story that taking a personal photographer on honeymoon is a trend amongst rich people. That's sorta funny but it also makes sense. Most people have great photos of the wedding because they hired a professional photographer, but not of the honeymoon.
For your honeymoon, the most important photos are those of you TOGETHER. Yes, you can and should ask people to take photos of you. However, you'll get variable results. A smart phone with a selfie-stick is a good idea for spontaneous, casual shots but you don't want all your honeymoon photos to be taken from 2ft! To get great photos you'll need a proper camera and a tripod to position the camera. There are lots of portable tripod options around. Just like you're going to practice for your wedding dance, you might want to practice a few photo taking skills. You'll need 'em for when baby comes along 🙂
2. Don't skimp.
Budget travel e.g., long bus rides, noisy accommodation, and getting up at ungodly hour for the cheapest possible flights are all a recipe for arguing. You don't want to argue on your honeymoon. What you want is a completely stress free trip, especially after the stress of the wedding. Spending a few extra dollars will help buy you out of some of the common stressors that can cause bad moods and arguments.
3. Go on a relaxing holiday.
A beach type honeymoon destination is likely to be a lot more fun than traipsing around cathedrals in Europe. Ladies, don't make your new husband wait around while you shop on honeymoon 🙂
A city break can also make for a relaxing honeymoon if you stay somewhere nice and don't overdo your schedule. For example, New York City could be a great honeymoon. Wherever you go, allow plenty of time for sleepin, lingering over fancy meals, and moonlit walks.
Looking at honeymoon packages can help give you destination ideas. If you're not from the US, we actually highly recommend it as a honeymoon destination e.g Hawaii. It's such a stress free place to travel (except for US airports) because of the focus on service and customer satisfaction.
You can't always be sure about things like potential noise level at your hotel or getting there to find the bed is rock hard and gives you back pain. Try to check reviews carefully to see if any of these types of issues are mentioned. After a few experiences of really horrible plasticy sheets lately, we're actually thinking about taking our own sheets the next time we go on a beach holiday. Not the stupidest idea.
4. Adults only.
If you're going to a resort for your honeymoon, you might want to choose one that's orientated towards adults. This will save you fighting for space in the pool with a bunch of squealing 3, 6 and 10 year olds. You'll have plenty of time to enjoy family travel later.
5. Practice being off-line.
If you're not used to being untethered from your phone, it can be an adjustment. Try it out before you go on honeymoon. This will allow you to practice making the psychological break (harder than it sounds!) and also sort out any practical issues related to you being away from work for a few days or weeks.