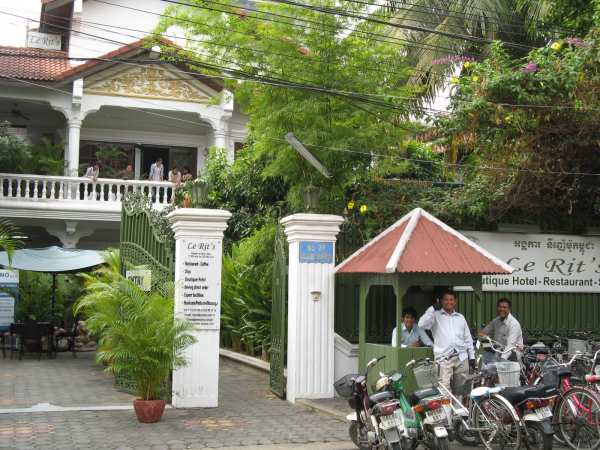 Le Rits Boutique Hotel and Restaurant
When you travel in developing countries like Cambodia you can't help but see an awful lot of poverty, and it can seem quite overwhelming. The majority of Cambodians live on less than US$2/day. I find it very especially difficult when confronted by ragged children who have been put out front by their parents to beg because they get more money that way. I find myself being judgemental and resenting the parents for this because the children should be in school, but there is a good reason why the kids aren't in school. Primary school is supposed to be free in Cambodia but because the teachers are paid so badly by the government, they expect families to pay them US$0.25/day/child. This seems very little to us but many Cambodian families cannot afford it. Despite knowing this I generally avoid eye contact and only rarely do I give money directly to them. My Cambodian friends often buy strings of threaded white scented flowers from the poor when we are stopped at traffic lights. I feel slightly more comfortable with that because we are purchasing something that they have made.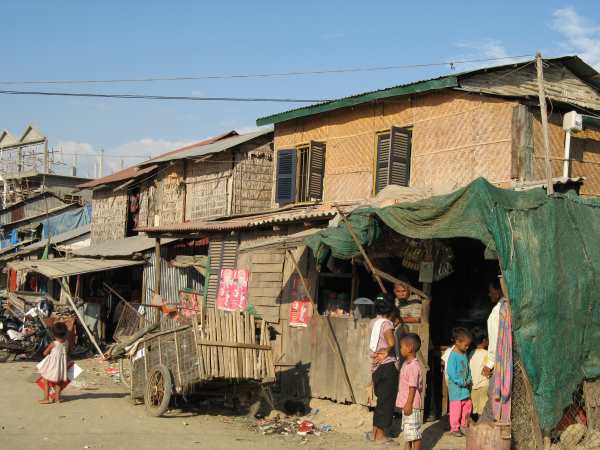 Slum Community in Phnom Penh supported by One-2-One Charitable Trust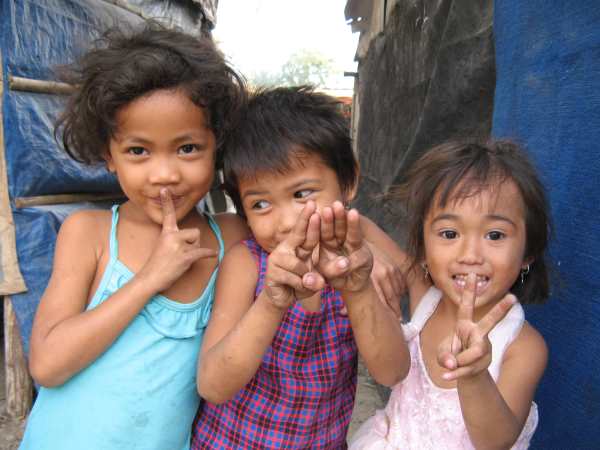 Kids in slum community supported with medical clinics run by One-2-One Charitable Trust
So why am I so averse to giving to beggars? Giving them a little money directly may help them obtain their next meal (which would be a good enough reason for many people to give) but it doesn't help improve their situation. When you give money, how do you know it will be spent on food or shelter instead of alcohol or drugs? Another thought that often goes through my head is, "There are so many of them and I can't help them all"! It is true that you can't help everyone but I have seen for myself in my volunteer work in Cambodia that helping individuals can make a life-changing impact on them and their families. Another cynical part of me thinks "Are they just too lazy to work and ripping me off"? Perhaps they are not genuinely destitute and are professional beggars. I actually did have an experience of this in Cambodia but the offender was a European man who posed as a fellow traveller. I was walking through the Russian Markets with my Cambodian friends when distraught man in his early 40's came up to me and asked me for money. He said that he had been robbed of all his money and his passport. He needed money to travel by bus to Vietnam so he could get a new passport from his embassy there. He had also had nothing to eat or drink that day and would appreciate a little extra money to buy something. The suspicious part of me wondered if he was genuine. The sympathetic part of me thought how awful it would be to be in his desperate situation. We gave him $24 between us and he took down our details and said he would pay us back on his return to Phnom Penh. We never heard of him again! How could we have prevented ourselves from being ripped off? Probably only by insisting on accompanying him to the bus station and seeing him pay the bus fare! An interesting anecdote but I'm getting off topic – sorry.
Back to begging. I prefer to help the poor by supporting local and international NGOs (Non-Government Organisations) in Cambodia. I have supported World Vision for about 20 years and in the last 3 years have given lump sum donations to clean water projects in Cambodia. When I am in Phnom Penh I stay at Le Rits Boutique Hotel and Restaurant which is run by the NGO Nyemo that supports disadvantaged women and their children.
I also have a few meals at NGO-run restaurants like Friends, and Jars of Clay (right next to the Russian market). Others NGO-run eateries are Romdeng, Hagars Restaurant, Lous Blanc, and Cafe Living Room.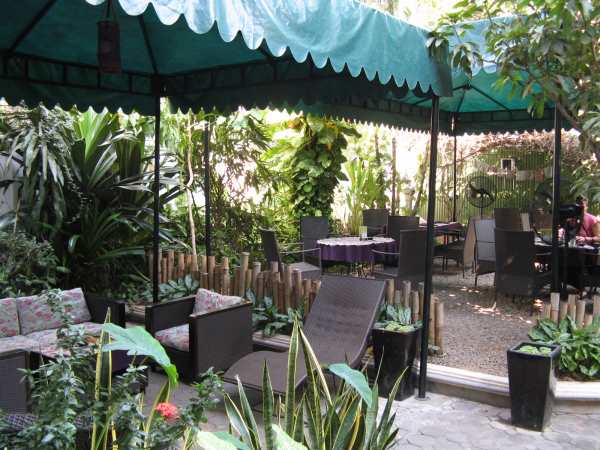 Le Rits Restaurant outside tables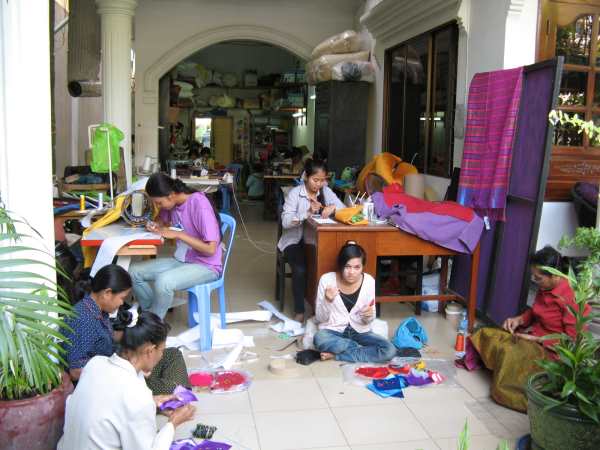 Young women sewing in work area attached to Le Rits hotel and restaurant

Le Rits NGO Shop – the finished products