Singapore – more than just a stop-over destination.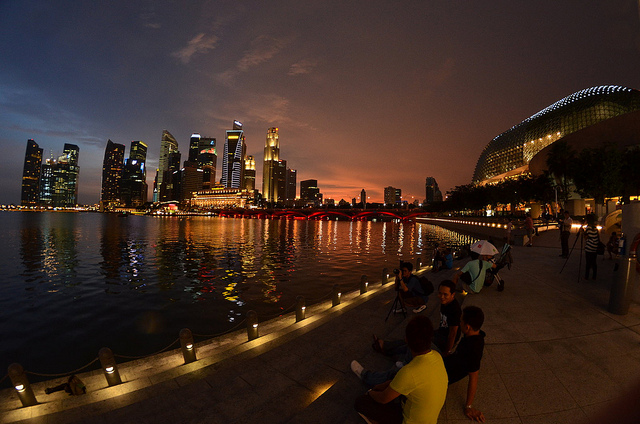 The Esplanade – Theatres On The Bay, Singapore.
When I think of Singapore the following words come to mind: tropical, lushious, clean, delicious, and stylish. To my mind Singapore is the perfect blend of a modern city mixed with old world tradition. For many western travelers a visit to Singapore is their first introduction to Asia and it's often just for a day or two. 
So how to make the most of your time in Singapore?
First things first, how to get around the city?
Transport
Singaporeans are famous for being well organized and efficient so it should come as no surprise that the city has a great public transport system. There is an extensive modern train system (the MRT) which will get you to almost anywhere you want to go, including to and from Changi Airport. There are various passes you can buy, ranging from 1 to 3 days, or you can purchase a single ride ticket. The passes can also be used on the buses as well. If you don't pass a pass you need to pay for single rides with exact change. Taxis are metered but ask the driver about any extra surcharges you might need to pay. 
Things to see and do
Singapore has fantastic shopping and has all the big brands if that's what you're into.
Me, I prefer nature, and plants grow VERY well in tropical Singapore. If you have a flora fetish like me then you are sure to be blown away by the beauty of the National Orchard Garden. It's the city's No.1 attraction and has been for decades. Popular too is the world famous Singapore Botanical Gardens. Expanding on both these iconic attractions and looking to the future is the modern Gardens By The Bay, which is based on the theme of a "city in a garden". Plants from around the globe are showcased within two enormous domes of glass called The Cloud Forest and the Flower Dome, as well as the spectacular Supertree Grove and other areas of the park. If you have children or are a big kid yourself, the family will enjoy it's Children's Garden – lots of fun to be had climbing, sliding and running the gauntlet of the water sprinklers. Prepare to get wet! 
Little and big kids alike will also love Singapore Zoo with it's rainforest setting and nearly 3,000 animal inhabitants. 
Food, Glorious Food!
Singapore is a gustatory delight. From local street food to top restaurants it's hard for me to think of doing anything else other than eating! The local cuisine has strong Chinese, Malay and Indian influences because these ethnic groups make up the majority of the local population. But you don't have to limit yourself to Asian flavours alone as many of the world's leading cuisines are featured in city. Some of the world's leading chefs have established themselves in Singapore. For example, this restaurant in Singapore, Shangri-La Hotel's Waterfall Ristorante Italiano, is led by new head chef Marco De Vincentis, a native of Naples who creates authentic Southern Italian cuisine using the freshest ingredients and handmade pasta. Shangri-La's Hotel, Singapore's "Weekend Staycation Package" offers complimentary bonuses like free breakfast at The Waterfall, free use of the hotel's health club facilities and pool, as well as a very handy 6pm late check-out. 
Architecture
Singapore has always been a forward thinking city and this is reflected in the most amazing designs of buildings that have constructed over the last decade or so. The image above is taken from the Esplanade, which gives great views across the city's skyline, especially at night. The Esplanade – Theatres on the Bay is a great concert venue, and it has free cultural entertainment there each weekend. The domed theatres also look stunning when they are lit up at night. The futuristic Marina Bay Sands Skypark dominates the skyline and looks like a ship atop 3 adjacent skyscrapers – an amazing and arresting sight. There are great views of the city from its observation deck which will set you back SGD$23 per person. 
There are literally many hundreds of things to do in Singapore. I have merely touched on a few of the highlights. 
This post was written in association with Shangri-La Hotel, Singapore.
Image by Nicolas Lannuzel under Creative Commons license.