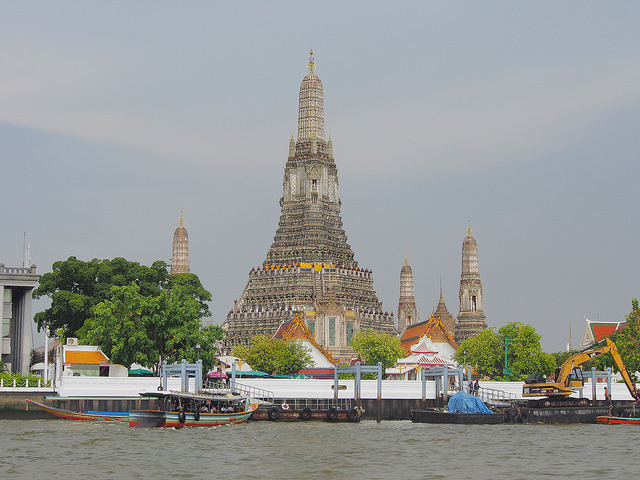 I have made frequent trips to Cambodia from New Zealand over the last few years, which usually means transiting overnight in either Bangkok or Kuala Lumpur. The international airports in both cities are a good hour's drive from their city centres, which is the last thing you feel like doing when arriving late at night and are leaving the next morning. It's much more sensible to stay somewhere near the airport. You save money on taxi fares and accommodation charges, and you get to sleep in longer 🙂
I arrived at Bangkok's Suvarnabhimi Airport late in the evening. I had booked the Sanawan Palace in Bangpli Yai over the Internet and had made the effort to print off the map directions for the taxi which is always helpful. From memory the journey took about 15 minutes. As everyone says, ALWAYS insist that the taxi diver USE THE METER. If they don't want to use the meter they are trying to rip you off. My taxi cost me about USD$6. The rooms and facilities at Sananwan Palace are simple but clean and perfectly adequate for an overnight stay. I am always on a budget so their prices were very agreeable to me: USD $12 for double room with bathroom and fan: USD $16 for a double room with bathroom and A/C. They also have day rooms available if you are not staying overnight. There is also a pool if you have time for a dip.
My flight the next day wasn't leaving for Phom Penh until 1530hrs so I had until midday to amuse myself. That morning I walked out onto the street and was immediately struck by the fact that Bangpli Yai is a genuine Thai suburb and not a touristy area. I needed some breakfast so I bought some tasty soap from a street food vendor. I don't know what was in it but it was good. I was going to go to the local market down the road but a happy commotion just across the road caught my eye. An athletic group of young men were playing soccer on a dirt pitch, watched by a small crowd of enthusiastic spectators. I went over and watched and before long they had invited me to sit and join them. They were very friendly and offered me free drinks and snacks. At half time I got up and jokingly asked if I could try kicking a penalty goal. One of the boys took up the challenge and went in goal. I had 3 shots at goal. The first one hit the bar, the second he saved and the third I scored 🙂 Everyone laughed and clapped and I jumped around like I had scored a goal at the World Cup. I think they were surprised that a girl could kick a ball so well. It was great to mix with the local people and I felt very relaxed and happy when I flew to Phnom Penh that afternoon. In fact this experience is one of the travelling highlights of my life so far. It just goes to show that it's not the places you visit but the people in the places you visit that is create the most fulfilling travel experiences.
Image by Clay Gilliland under Creative Commons license.