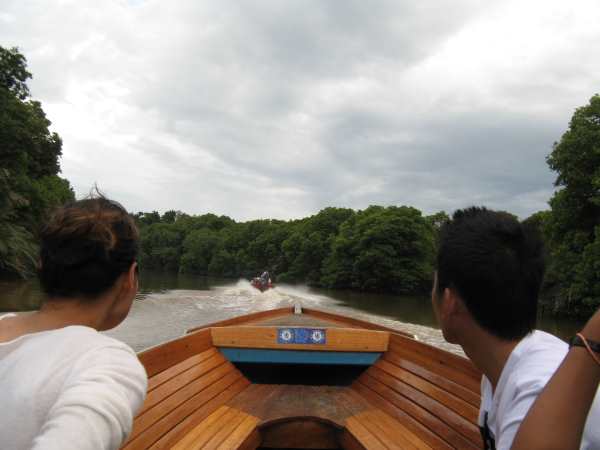 (Click here to read about the first half of this day's events.)
So I'd tagged myself along to a lovely young group of Cambodian tourists and we began our long boat tour of Brunei's waterways. We travelled in two long speed boats, visiting the Proboscis Monkeys and Kampung Ayer (which means Water Village), where the local people live in houses on stilts above the water. All the houses are inter-connected by wooden walkways, and we saw schools, a mosque and even the local fire brigade built atop the water! We hopped off the boat at several jetties and had a look around. Upstream from the village the river banks were clad with beautiful, dense, tropical bush and mangroves. We only got a look at the monkeys from a distance which was a little disappointing. If, like me, you haven't seen them before I suggest you Google them. Monkeys are usually cute but these things are damned ugly!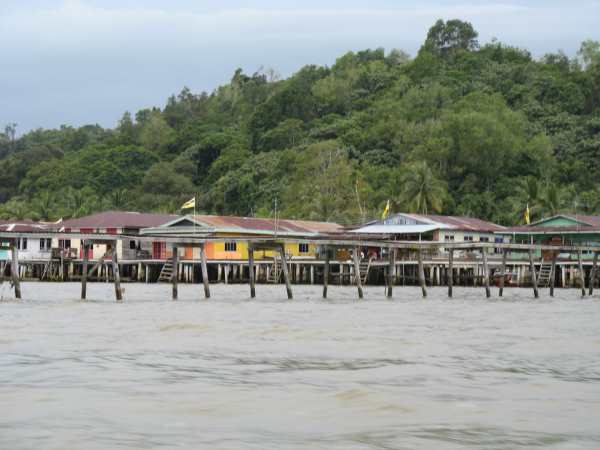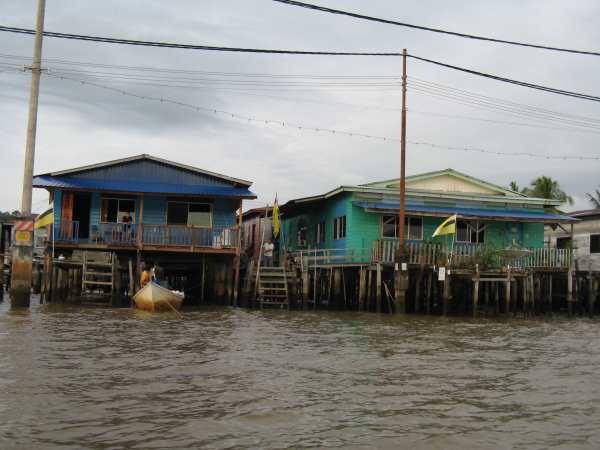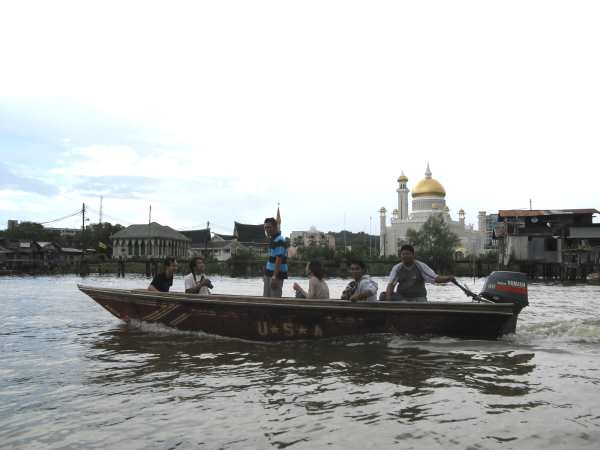 At the end of the tour I farewelled my new Cambodian friends and assumed that I would be whisked to the airport and this would be the end of my day in Brunei. I was wrong. The tour guide and I walked the short distance to his brother's place to get the car. There I was alone with these two young men, thinking that perhaps my decision to get a lift with them had been rather rash and stupid. They then said that as we didn't need to be at the airport for another 3 hours they would like to show me a bit more of the city for no extra charge. This made me even more nervous! They were either incredibly generous and hospitable, or I was about to be abducted and God-knows-what else and my family would never hear of me again! Despite my discomfort I was too polite to say "no". As it turns out they were incredibly generous and hospitable hosts. They took me to a market where I ate the best marinated roast chicken I have ever eaten before or since. Then we went for a drive passed the Jame'Asr Hassanil Bolkiah Mosque, which must be the most beautiful mosque I have ever seen.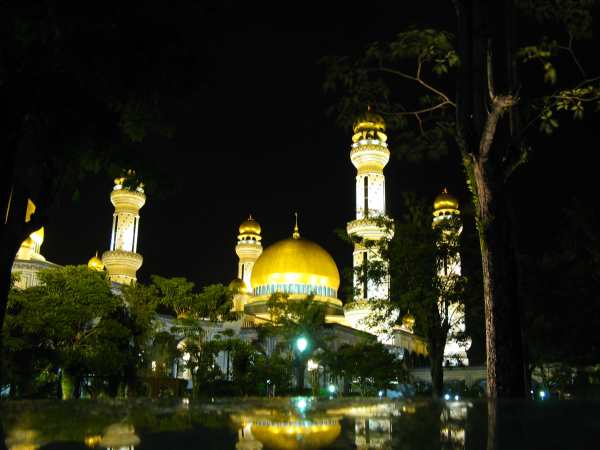 The clouds that had been threatening most of the afternoon finally dropped their burden and there was an amazing electrical storm which lit up the mosque and made the whole scene even more stunning and surreal. If I ever go back to Brunei I definitely want to visit this mosque again and have a good look at it, inside and out. It gets very good reviews on TripAdvisor. We also drove passed the Sultan's palace but we unfortunately didn't get a good view because of the bad weather. The boys were very friendly and as time went on I felt more relaxed. It was great to meet some local people and learn about this little country that they were obviously so proud of.
At 8:30 pm I was dropped on at the airport safe and sound as arranged. I had taken a chance, perhaps a very silly one, and I had had the most wonderful experience 🙂