I had a lovely weekend visit to Kampot with Khymer friends in Jan 2013. It is a beautiful riverside town with a tranquil atmosphere, and I found it to be the perfect get-away from the chaotic fun of Phnom Penh. My favourite thing to do in Kampot was to stroll along the river-front promenade and watch life on the river go by. The hazy Bokor Mountains were a romantic backdrop and I loved the beautiful flowering trees that lined the walkway and the waterfront road.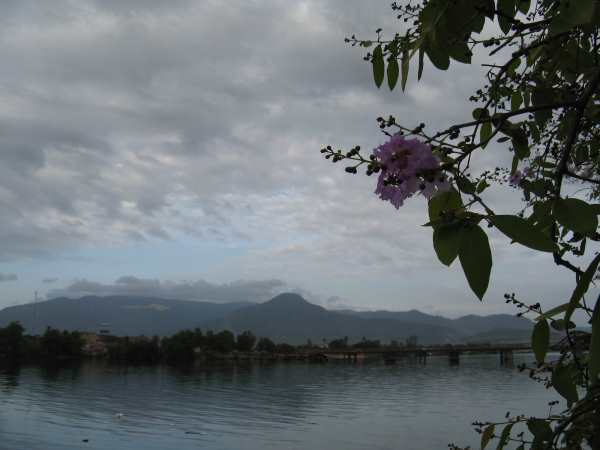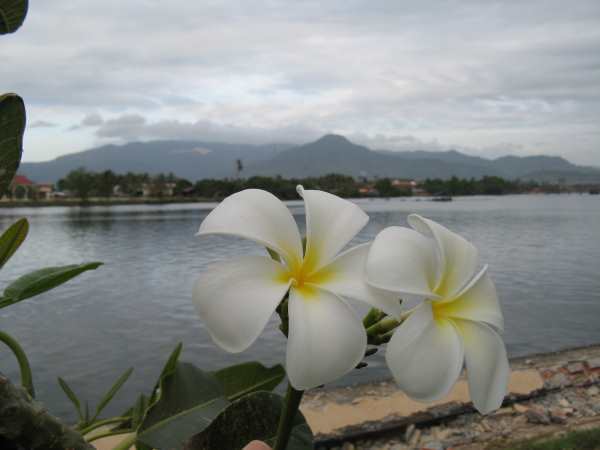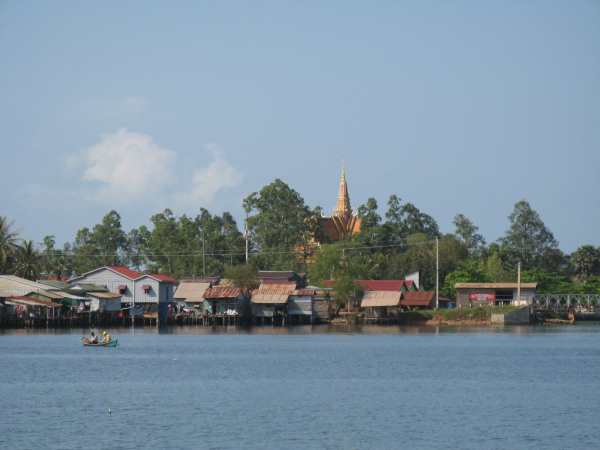 We stayed at a lovely guest house near the Kampot river called Mea Culpa. As part of their restaurant they produced gourmet pizzas in their outdoor pizza oven. It was fun to watch them being prepared. The next morning we walked the short distance down to the river and had a look around the small fresh fish market. Boats were unloading the fish, crabs and other seafood, most of which was still alive.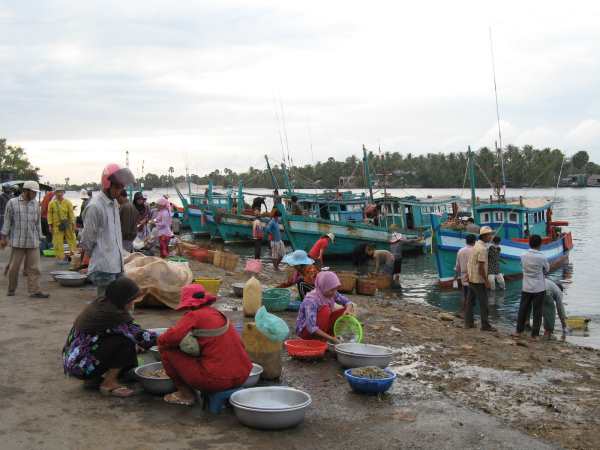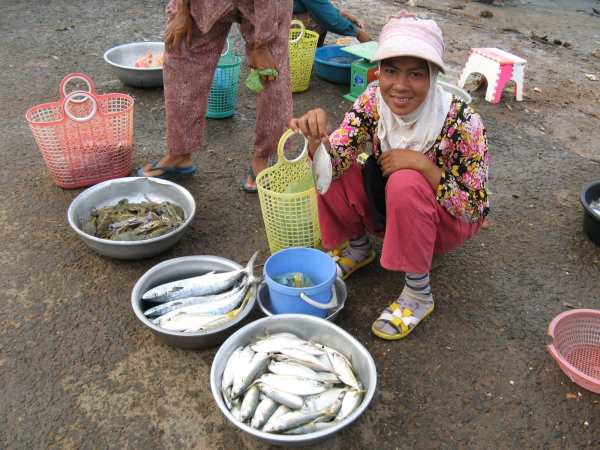 Then we took a wander around the the Kampot Market, just 1-2 blocks back from the river. I love markets, especially seeing produce that is famous from that area. Fresh green Kampot pepper corns are wonderful, complimenting fish or crab dishes with a dash of lime juice. I think on my next visit to Kampot I'd like to visit a pepper farm.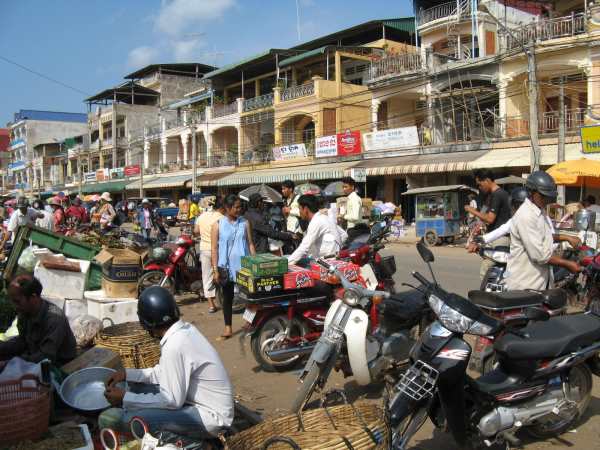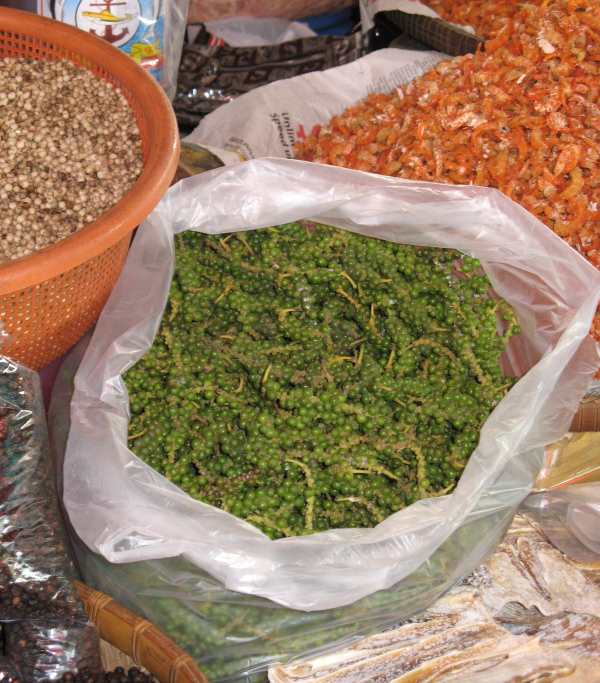 Bokor Mountain
The day's main event was a drive up Bokor Mountain. The new highway up the mountain jungle has reduced to driving time from 2 hours to about 40 mins. Bokor Mountain is famous for the abandoned ruins of a French hill station, along with those of a church and the former summer residence of Prince Sihanouk.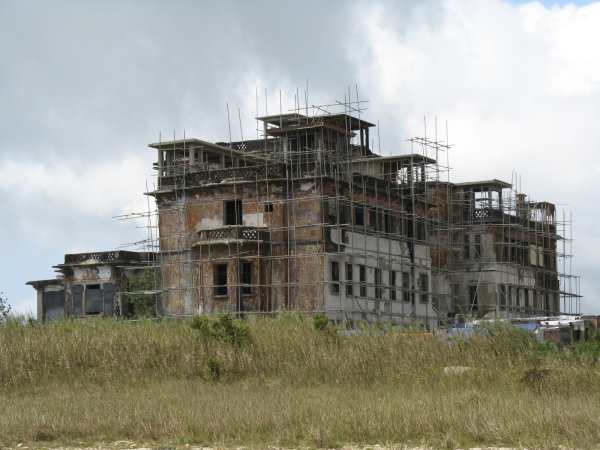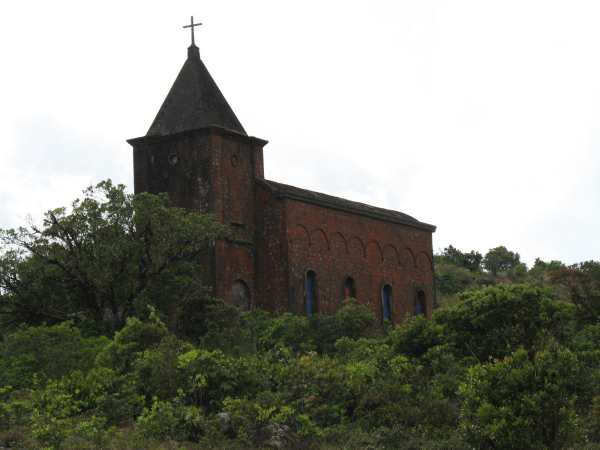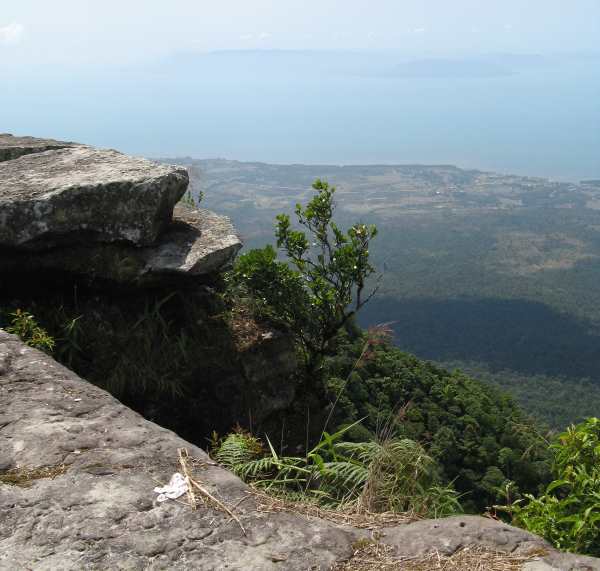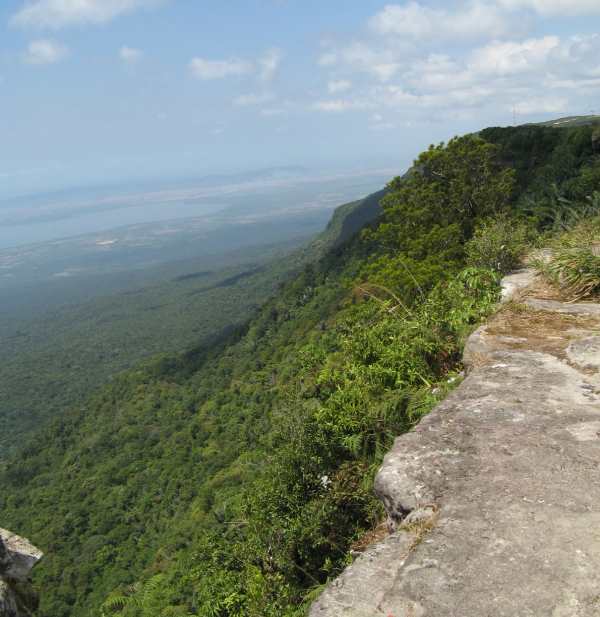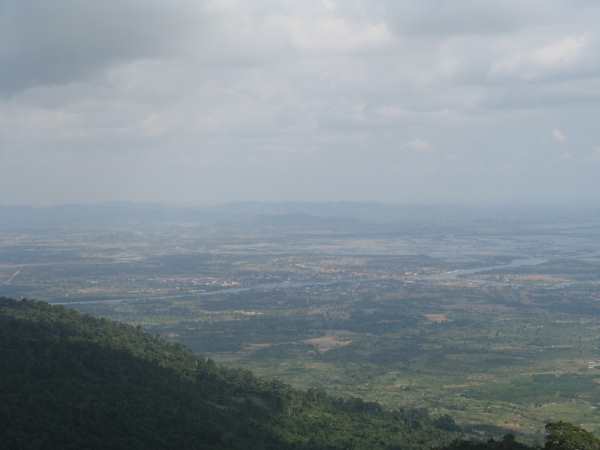 Unfortunately the mystique and charm of this area has been ruined by the new development of an enormous monstrocity of a casino and hotel near the top of the mountain. It was under construction when we saw it but would probably be finished by now. Bokor Station was off limits as it was under renovation. I think developers are trying to return it to its former glory, but I fear it may lose its character. The views from the mountain are still magnificent but the development is badly damaging wildlife in the area which is a great shame. We had a picnic at the top of the mountain. We had different types of Cambodian fruits ( Mangosteen, Milk Fruit, Dragon Fruit, Bananas which are so much tastier than the ones we get at home etc) but the main treat our hosts bought especially for us was local crab. I think crab meat is delicious but they weren't very big and it was very messy and fiddly getting the meat out of the shell. A great experience but I probably wouldn't bother with it again unless someone else did all the hard work for me 🙂
Getting There
It takes about 3.5 hours to travel from Phnom Penh(PP) to Kampot by car or private taxi (USD$40-50). We went in our friend's car and about half way we stopped at a family road stall selling young coconuts for refreshment. We each picked out a coconut and one of the stall holders skillfully lopped the top of with a machete and the popped in a plastic straw. We were told this was the best coconut variety in Cambodia and the juice was indeed delicious and refreshing as the coconuts had been stored in an ice box . Then something rather humorous happened. The store holders were looking at me and saying something to our friends in Khmer. Apparently they thought I was very beautiful, which is funny because I am very much a "plain Jane" where I come from in NZ. It seems Cambodians admire the narrow Anglo-Saxon nose , and I certainly do have a long thin nose!
Most bus companies (air-con but no on-board toilet so one toilet stop half-way) go to Kampot via Kep, take 5 hours and cost about USD$5. The more upmarket Giant Ibis Transport costs about USD$8 and travels directly from PP to Kampot in 2.5-3 hours and will drop you off at your accommodation.