Here is the 3rd and last email excerpt for my three day visit to Angkor Wat, Siem Reap and Lake Tonle Sap from December 2009.

(For Part One of my trip to Angkor Wat click here. For Part Two
click here)
Hi Everyone,
I feel physically shattered and nauseated with tiredness. These early
mornings are catching up with me. Yesterday we left our guesthouse in
Siem Reap for a 25 min tuk tuk ride to Tonle Sap Lake for a boat ride
to visit a floating village. Along the way we passed shacks and
ramshackle bars on stilts that looked like they might blow over in a
slight breeze.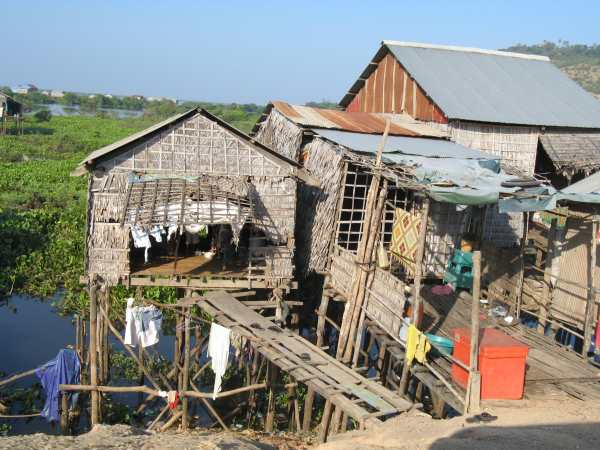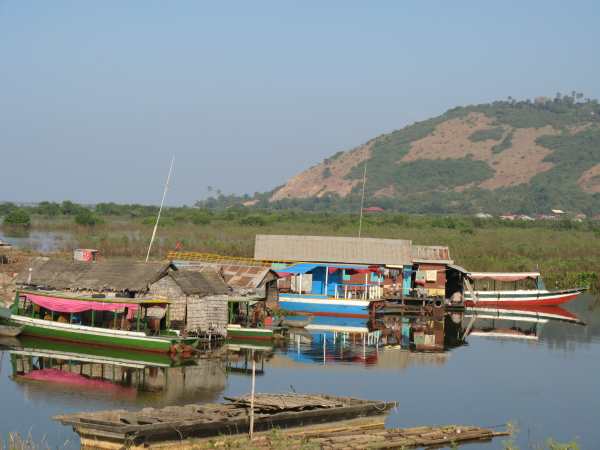 Our tuk tuk ride was marred by hitting and killing a
young dog. Our driver was unable to avoid it. It was awful. The driver
slowed down to ascertain that it a goner and then took off without
stopping.That is typical of life here!
The boat ride was a bit of a rip-off – $12 US each. That doesn't sound
much by NZ standards but the tuk tuk only cost $8 US return, and our 5
hour return bus trip from Siem Reap to PP was $4 US!!!. The 6 of us
were on our private shaded long boat which took us out through the
mangrove forest to the genuine floating village where the people make
their living from netting small fish. It was most interesting to see fisher-people sitting within a netted tent-like
structure while beating small fish out of their fishing nets with flexible badmintin-like racquets.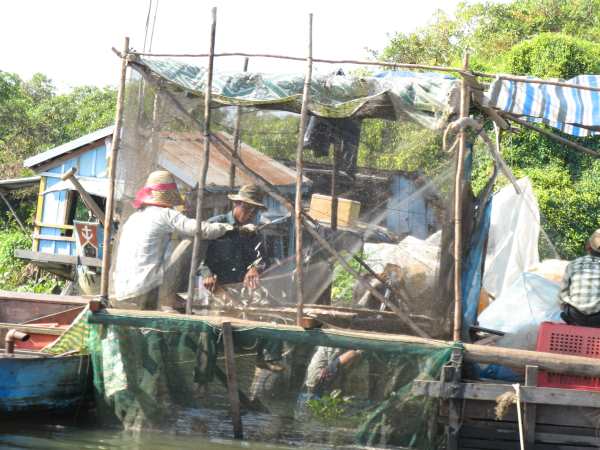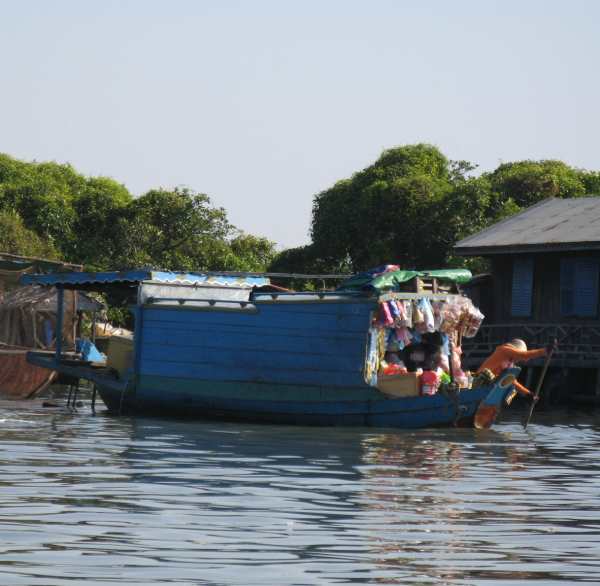 Floating shop
There were a few floating tourist markets and dentist Agnes had a fish massage at one
of them – you dip your feet into a small pool a tiny fish nibble at the dead skin on
your feet. It is apparently quite ticklish but quite fun.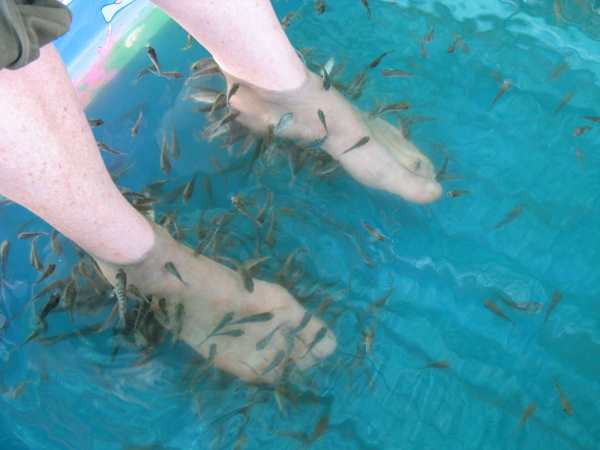 Little children were sitting and padding along in small circular aluminium
tubs asking for money. They did look very cute.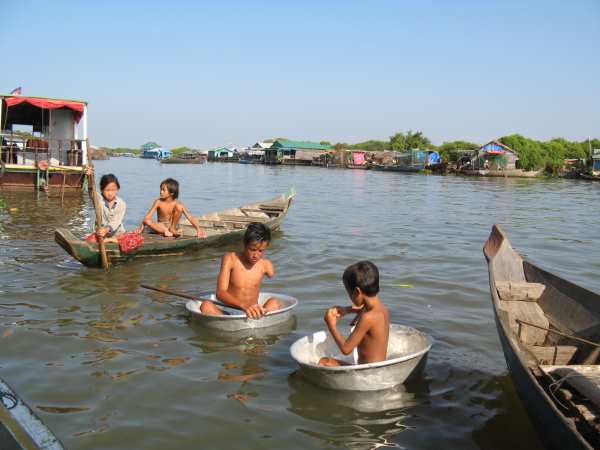 Kids at play in metal tubs! A means of transport for them too.
We saw a floating
school and a floating catholic chuch complete with parishioners!!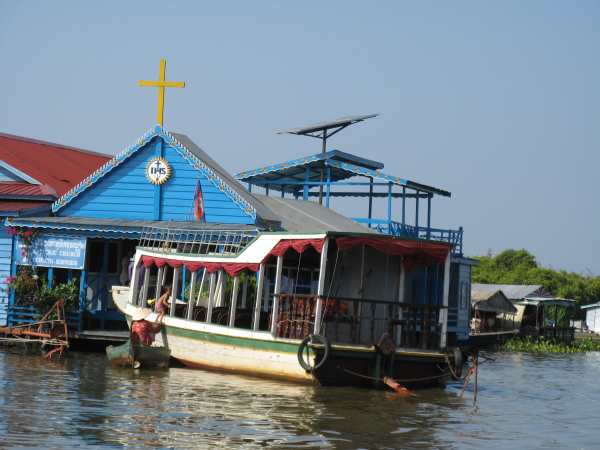 The boat ride was supposed to be 90 mins but the driver seemed to be
returning to base after 45 mins as we had seen everything. Wanting
value for money I asked him to turn around and retrace our steps. He
wasn't best pleased but too bad.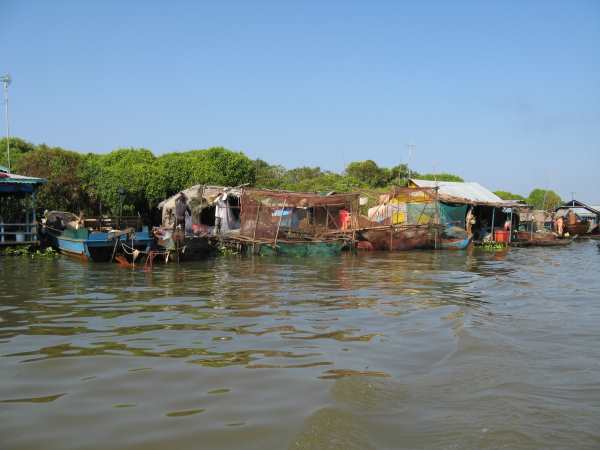 On our bus ride back to PP we passed fish farms and duck farms along
the river as well as the ubiquitous rice fields. I am looking forward
to meeting my parent's sposored child Visal as his family are duck
farmers.
Up at 0530 this am to cram into 2 cars and a van with our volunteer
team and the portable dental and medical equipment. The team included
8 local dental students, and 4 medical and pharmacy students to help
the medical team with translation. Besides me and Annie we have 2
lovely medical students from NZ. Annie is often away attending to
other things so I am left in charge. We traveled 80 mins to the town
of Kapong Chenang (? spelling) north of PP, to an orphange of 35
children. After checking them over we saw some of the local townsfolk
who turned up.
Disturbingly the orphange's community leader pointed out to me that 5
of the children have weaknes and numbness in their legs – we think due
to vitamin deficiency. You may remember that we saw the same thing at
the prison last week. It is a huge problem. When I saw what the
children
had for lunch I am not surprised that they are malnourished. Each
child had a plate of rice, a bowl of clear soup with chinks of
vegetable and tghe odd chicken claw or gizzard. There was no protein
to speak of. They probably get that twice a day.
In the afternoon the dentists carried on working at the orphanage
while the medical team piled in a van and heaed 10 mins down the road
and then dirt track to a shack in the countryside. At first there was
only 2 people there and then villages swarmed on us by ants to a
sticky bun. We dispensed very basic medical treatment. When I needed
to examine a few lady's abdomens I took them away from the crowd and
got them to lie on some clean hay so it was more comfortable and
private for them. I can't believe how poor these people are. They have
nothing and their clothes are filthy. The marority of the kids at the
orphanage and village had nits. 2 of the kids at the village were
riddled with nits and had crusted impetigo on their scalps. Annie made
the sensible suggestion that the only sensible thing to do was to cut
their hair off. They are little giirls so I don't know if the family
will listen to our advice but it really is the best option.
I fell asleep in the car on the way home – with my mouth open!! Very
attractive. Need to get more sleep tonight at up at 6 am tomorrow to
go back to the prison we were at last Saturday. We plan to de-worm all
3000 prisoners!!
Love KB.