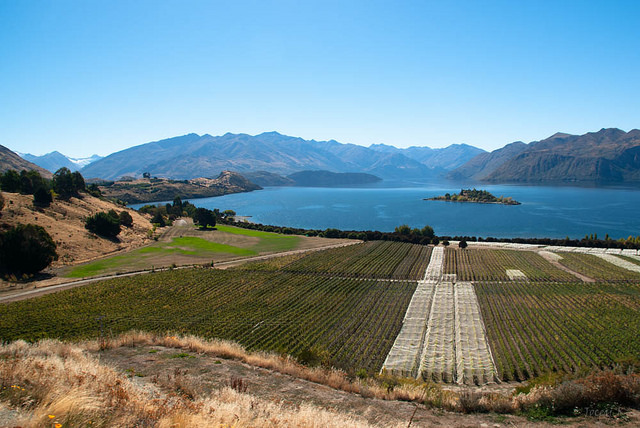 Before you can consider yourself a wine snob, you must familiarize yourself with the different types of wine first. You can't be mispronouncing "Sauvignon Blanc" while describing the flavors picked up by your "exquisite" taste, not know what to pair with foie gras and caviar, nor not being able to tell the difference between Cabernet Franc and Cabernet Sauvignon. So let's familiarize ourselves with a specific type of red wine variety, the Pinot Noir.
The Pinot Noir [pronounced pee-know na-wahr], named after the pine cone-shaped clusters and its rich black color, is one of the most difficult wine grape variety to grow, preferring chalky clay soil. It is rarely blended, often fermented on its own, and is very smooth. Due to these properties, it's believed to produce the finest wines in the world. Un-aged Pinot Noir wines tend to have a fruitier note, with strawberry, cherry, and raspberry notes most noticeable, and develops herbaceous notes when aged, adding to the complex flavor profile of the wine.
Pinot Noir: Origin and Districts of Interest
While it is heavily believed that the Pinot Noir variety originated in Burgundy, producer of the finest Pinot Noir wines, its origin is unclear. Wines from Burgundy are known for their tart cherry, earth, and herbaceous notes. Wines from Côte d'Or in Burgundy are said to be the finest made from this variety. Other countries that produce good Pinot Noir wines include California, which gets black cherry and raspberry notes from the intense heat in the area, with added vanilla notes from French oak barrels used for fermenting. Oregon Pinot Noir wines are fruity and light with flavors ranging from cranberry to dark cherry, while New Zealand produces dark Pinot wines with cherry, spice, and cola notes. Although new to growing Pinot Noir, Argentina also produces good Pinot wines which have an intense spice notes with hints of black cherry. You can order international Pinot Noir from Advintage, a New Zealand-based online wine catalog and seller.
Pinot Noir: Flavor Pairings
Pinot Noir is a very versatile wine to pair with food, although it pairs best with fish, such as grilled salmon, and light meats such as chicken and lamb. Pinot Noir also pairs well with Japanese food. Lighter wines pair well with cold meats, terrines, and several spring vegetables like peas and asparagus, while richer wines pair best with heavier meats, such as steak and venison, duck, olives, and mild cheese such as Brie and Gorgonzola Dolce. Top Burgundian wines, which are usually silky and more refined, pair well with roasted chicken, pigeon, lamb, wild mushrooms, and lobster. Vintage wines are often paired with game meat and truffles, while fruity wines are best with salmon, tuna, and dishes with cherries and figs.
Pinot Noir is one of the most exquisite wine varieties out there. Although it usually comes at a higher price, it is justifiable with the temperamental nature of the grapes and delicate handling required in growing them. New Zealanders and tourists can view and order Pinot Noir from Advintage, an online wine dealer specializing in anything wine.
Image by Jocelyn Kinghorn under Creative Commons license.
Post written in association with Advintage.