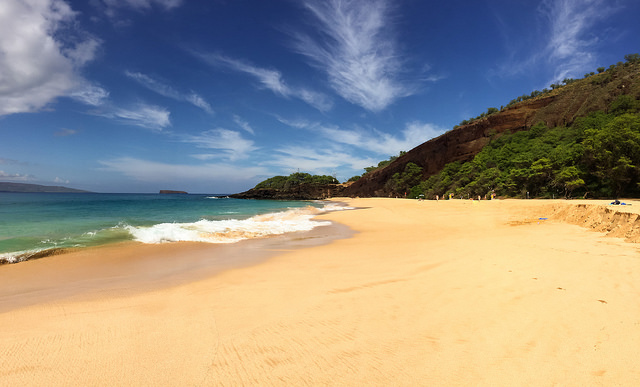 I know you want to be there already! – BUT there are important practical things to consider when planning your trip, to ensure you have a great time when you get to Maui.
Weather on Maui and When to go
Hawaii does have seasons but an Hawaiian winter certainly isn't like a traditional winter in the same sense as the US mainland. The air temperature highs and lows in Maui only vary by up to 10 F throughout the year. In the winter months (Dec thru Feb) the air temperature is approx. 64-80 F and in summer (Jun thru Jul) it is 69-87 F. The sea temperature is the coldest at 75 F in February and the warmest at 80 F in late Summer (Jul thru Sept). On average there is very little rain from May through September with higher amounts in the remaining months, especially December – March.
The weather varies more with where you are on the island rather than what time of year it is. The east coast of Maui (i.e the windward sides of both Heleakala and the West Maui Mountains) generally gets more rain than the west of the island. For example the annual rainfall in the forested area high above Hana is 400″ whereas it is only 10″ in Kihei on the west coast. This is why the majority of resorts and the best Maui vacation rentals are on the west coast.
Swimming in the ocean can be dangerous. Remember that Maui is famous for surfing, with the swells being the biggest during the winter months, especially in the north and northwest. Beaches that are calm and lovely for swimming in summer can be completely unsafe (and unpleasant) for swimming in Winter.
There are many beautiful beaches on Maui, but you'll want to carefully research which are going to be calm for swiming and snorkeling when you visit, assuming that's a priority which it is for most people.
When planning your visit to Maui, remember to consider the dates of US holidays and children's summer vacations, and whether you want to avoid these times or make them a feature of your vacation. For example, Memorial Day is a big event in Hawaii, especially Oahu, due of the large presence of the US military in Hawaii and because of what happened at Pearl Harbor in WWII. Fourth of July is also a very busy weekend. While prices and crowds can be issues on holiday weekends, there is also a positive aspect, in that Hawaiian families usually head to the beach these days so locals' beaches will often have amazing festive atmosphere. You can also use holidays to your advantage. We once flew out of Hawaii on July 3rd and the plane was very quiet, enabling us to use some spare seats for sleeping.
Getting to Maui
If you're coming from the mainland US, you may be able to fly nonstop to Maui. If you're coming from further afield, you're likely to need to stopover either in the US or in Honolulu. From the US you can fly United to Maui from LA or San Francisco. On American, you can fly from LA, their hub, Dallas Fort Worth, or the US Airways legacy hub of Phoenix. Virgin / Alaska Airlines fly to Maui from Seattle, Portland, San Diego and LA. Hawaiian Airlines and Delta fly to Maui from LA. From the East Coast of the US, your main choices are whether you can to transit through another US city or through Honolulu. If you are coming from Canada it's good to know that Air Canada has nonstop flight direct to Maui from Vancouver and Calgary.
Using frequent flyer miles is a popular way to get to Maui. Especially if you want tickets for your whole family, your best bet is typically going to be booking them as soon as award availability opens up. This is usually around 11 months out, but you'll need to research the specific number of days for your carrier of choice.
Another choice for visiting Hawaii is as a stopover on the way to Australia, New Zealand, or Fiji. However, that's typically going to involve an island hopper flight from Oahu to Maui, if Maui is the destination you have in mind. You can always open jaw i.e., fly American from Auckland to Honolulu, get a separate ticket to Maui, and then fly from Maui back to the mainland. This might be your best choice if you want to use miles.
You can always use your miles for your accommodation too. Hyatt has some popular properties for people who want to use points. If you have Chase Credit card you may be able to transfer miles to Hyatt from their Ultimate Rewards program. Using Starwood SPG points is another option for Maui – there's a Sheraton and several Westin branded hotels where you can use your points.
Another possibility for your Maui accommodation is renting out unused timeshare space. Some of the main hotel brands have "residence clubs" on Maui. If owners have decided not to use their timeshare week, then there can be some excellent deals to be found on those accommodations that would otherwise go unused. Timeshare bookings are really only recommended for experienced travelers as there is likely to be little flexibility for cancelling, and you'll usually need to make their dates work and stay for exacting a week, starting on the particular day of the week. You'll also need to feel confident in researching properties to make sure you're picking somewhere that's nice and meets your requirements.
Image by Dronepicr under Creative Commons license.