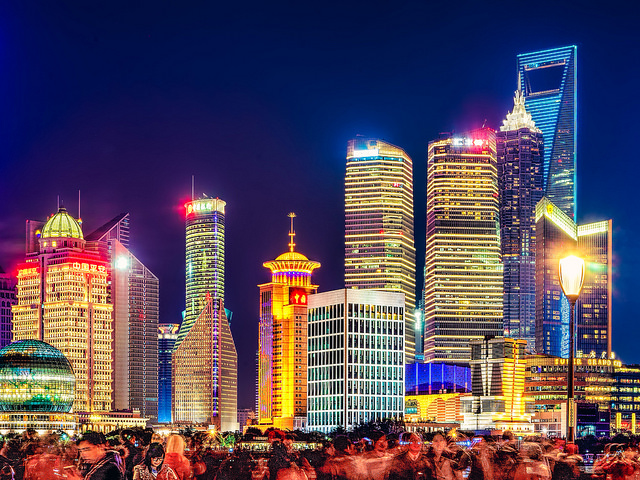 Visitors to China will no doubt know about the country's large and rich cultural history, including the capital, Beijing, and its countless iconic historic buildings, however China has a very modern side too, one which is equally as interesting to explore. Shanghai is China's largest city, and at first glance you could be forgiven for thinking you were in New York, with countless towering skyscrapers soaring high into the sky. Of course, Shanghai isn't totally without old culture, but it is certainly leaning more towards the modern.
If you have three days to spare and you find yourself in this bustling metropolis, check out this sample itinerary for good measure.
Day one
When you arrive, make sure you ride the futuristic Maglev train into the city centre. This will take some thinking about beforehand to time your visit, but it is something that should definitely be done! The Maglev is the world's fastest train, travelling 19 miles in just 8 minutes; in the middle of all this you simply won't feel like you're moving at all! The Maglev sums up the modern side of China perfectly, and a visit to the accompanying museum will show you more about its construction.
Once you're settled into your hotel, it's time to get out and about, exploring this huge city to the max. Getting around is easy, with a very simple public transport system, however comfortable shoes are a must.
Shanghai Museum is a great place to start, to show you an overview of the place you're visiting. This is a popular and very centrally located museum, and houses over 12,000 different pieces from Chinese history. A few hours exploring this cultural site is a good start to your stay. Once you've done that however, it's time to get a real overview of the city, and the best place to do that is by visiting the world's fifth tallest building – the World Financial Center. Head to the highest observatory deck in the world, on the 100th floor and check out the amazing view before you. If you can time this with sunset you will be treated to something truly special.
Your first evening in Shanghai should be something equally as vibrant, so head to Shanghai Circus World for a performance to remember. There are countless shows on during the week, and it's a case of checking out what is happening on your particular day, however acrobatics, animal shows, and dancing are included on the programme.
Day two
Your second day in Shanghai should start with a walk along The Bund. This is along the banks of the famous Huangpu River, and this is where you can get a ground view of the famous skyline of the city. You can jump on a ferry to sail down the river, enjoying a truly wonderful overview too, whilst also travelling from one side of the city to the other.
Every large city has countless shops, and retail therapy is a must in Shanghai. Nanjing Road is certainly where it's at, with shops selling every type of product you could want, both old and new. This is a hugely popular area of the city, with much history to explore, including the famous Golden Belt, which runs through the street. Check out the 37 manhole covers – this might sound tiresome, but these are quite special, each decorated with different pattern carved into them.
You can catch a sightseeing bus from Nanjing Road, or you can head to the east side of the district and batter your credit card a little! Check out Cai Tong De, famous traditional Chinese medicine shop, or tickle your tastebuds at Shen Da Cheng, with delicious desserts on offer.
Day three
Your final day in the city should be a more relaxed affair, after the fast pace of the last two days. Head to Yu Garden for a traditional visit to an old Chinese garden, where you can admire decorated bridges, pagodas, open spaces, and walls with dragon decorations. This is a wonderfully peaceful part of the city, and a definite must visit.
In-keeping with the laid-back vibe of your final day, head to Zhujiajiao, an old Chinese water town, and take a boat ride up and down the main canal, checking out the old scenery as you go; if you choose the longer route you will pass the oldest bridge in the city, Fangsheng Bridge.
Of course, finish off your visit with some delicious Chinese food before leaving this wonderfully modern part of the country.
Image by gags9999 under Creative Commons license.