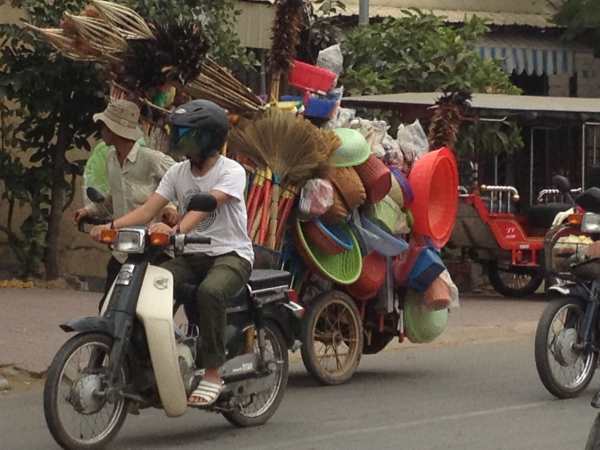 Everyone's comfort zone is different when it comes to travel. For one person, the idea of going to Thailand might see very routine, since experienced travellers tend to know it's one of the easiest countries in the world to travel to. However, someone who has only been to Western countries might find even the idea of Thailand a little daunting.
Whatever your comfort zone is – here are some tips for how you can expand your travel horizons without feeling nervous to the extent you don't enjoy your trip.
Travel with a more experienced traveller.
For example, my Mum went to Thailand by accompanying my sister and her family. I doubt she would've attempted this trip otherwise. Now she knows navigating Asia is within her capacities.
If you go this route, you need to not expect the person you're travelling with to babysit you, and you need to be tolerant of anything that doesn't go according to plan. Let them know what your limits are e.g., you need aircon or you can't sleep.
Go luxe.
You don't need to travel like a backpacker just because you're going to Asia. Four star travel is a great bargain in Asia and we do a mix of this when we're in cities like Kuala Lumpur and need a break from beach bungalows.
If it helps you feel reassured enough to get on the plane, go ahead and book yourself into a 4 star hotel!
The New York Times has some advice about booking a hotel in Asia and avoiding "rookie mistakes."
Take a tour.
There are some places that even many very experienced travellers don't want to tackle independently. Indian and China tend to top this list, due to language barriers and fears about getting hassled to buy things constantly or ripped off. There are plenty of tour companies who offer tours of these destinations. Shop around and find one that's a good fit for you in terms of group size, where you want to go, and for how long. Also consider standard of accommodations and how much unscheduled time is available each day (where you're not doing activities or in transit). For example, Adventure World offer China tours. It's much better if you start your search online and figure out exactly what you want in your own time, rather than getting rushed by a travel agent. Maybe, take a tour for your first week to get yourself acclimatized and then stay on independently.
Start with the "easiest" countries.
I think it's really good advice for new travelers to Asia to start with the countries that are easiest to travel in. Top of the list: Thailand, Malaysia, and Singapore. Beyond this, my next tier would be Vietnam, Cambodia and Japan, in terms of ease of travel.
Find an expat / English teacher.
Some countries like Korea don't pose issues in terms of touts or fears of getting ripped of for most travellers. However, Korea is known to be somewhere that can be intimidating for travelers when they first land, or if they're only visiting a short time.
Here's the trick: There are tons of foreigners teaching English in Korea. If you can link up with some of these folks, either through personal connections or the web, they will be able to help you find great places to eat and give you other local knowledge so that you don't feel dazed and confused by culture shock.
For example, I'll leave you with this awesome video from Sam and Audrey, English teachers in Korea.