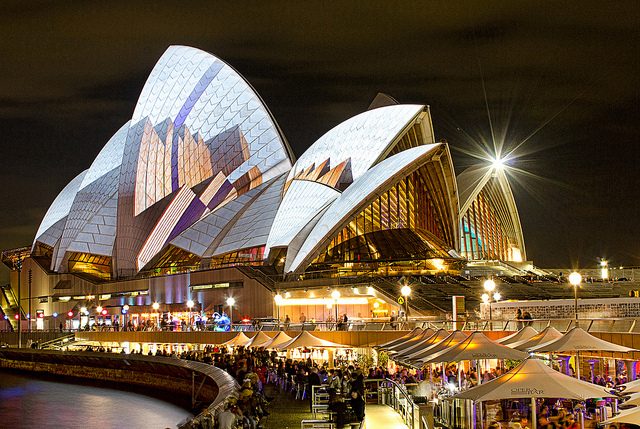 With Jetstar and Air Asia offering insanely great deals on flights from Asia to Australia, there is no better time to take a trip downunder. We recently booked Phnom Penh to Sydney via a quick layover in Singapore. The two flight were under 300 USD, even booking only 1-2 weeks in advance. Will let you know how the trip goes!
However the problem with a budget trip to Australia arises once you get there because Australia is SOOO expensive, even worse than New Zealand.
If you're doing a stopover or another quick break to Sydney, here are our tips for not breaking the bank.
How to do a Sydney Stopover without Breaking the Bank
Not everyone has the time and the money for a two-week luxurious holiday, especially if a large city like Sydney is involved. However, it is still possible to save up for a short trip without spending all your hard-earned money. Here are some tips:
Travel: Once your plane lands, you have to think of a cheap way to get from the airport to the city. It's easy to find a taxi, but it might not be the most affordable option for long distances. Take the train from the airport to the city centre to save money. Furthermore, once you're in the city there's no need to waste money on taxis either. It's easy to simply walk, train, or bus to the places you want to visit, especially if they are located in neighbouring areas. Plan your itinerary beforehand, so you won't spend too much money on transport and less on other necessities like food and accommodation.
Relax: You might be in Sydney for a short time, but that doesn't mean you can't relax. Going to the beach is a cheap and easy way to enjoy your stay. You can visit places like Bondi Beach, Bronte Beach and Coogee Beach, whether you're travelling by yourself or with a large group. If you're interested in checking out some of the smaller and less crowded beaches, then head over to Tamarama Beach and Clovelly Beach. A quick swim and picnic on any of these beaches is both pleasant and cheap.
Stay: Shop around for hotel deals well in advance or use a mystery hotels site to get a cheap last minute rate. If you're going to be taking a morning flight out of Australia consider staying at an airport hotel if the checkin time is too early for the train schedule.It makes getting to the airport less stressful and avoids an expensive cab.
Walk: As previously mentioned, walking to your favourite tourist attraction is a great way to save money. A walk around Sydney Harbour is great for sightseeing without wasting too much time and money. Walking across Harbour Bridge is free, and so is taking pictures in front of Sydney Opera House. That way, you get to visit some of Australia's landmarks without breaking the bank. If you have more time at your disposal, you can also squeeze in a walk across Darling Harbour, which is known for its restaurants and vibrant nightlife.
Eat: It goes without saying that you have to eat during your short trip. However, it might be challenging to find a restaurant in a popular tourist area where meals aren't overpriced. If you want to eat well but not blow a hole in your budget, head over to Chinatown. Dixon House Food Court is one of the most popular choices for tourists and locals who want to eat cheaply, but there are many food stalls in the area with their own selection of food. Alternatively, if you don't have time to head over to Chinatown for a meal, head over to the supermarket and buy some food for a picnic on the beach. Happy Cow has a nice overview of the veggie options around Sydney.
Explore: You've walked around Sydney Harbour and Chinatown, but you feel like you still want to see more. Well, the good news is that exploring the city by land isn't the only option. Ferry tickets are really affordable and you can get a quick tour of the bay and some breathtaking sights. The ferry rides from Circular Quay to Watson's Bay are really popular among tourists who want to get a lot of sightseeing without breaking the bank. Just make sure you start early, so you can save time and get more visiting done afterwards.
Whether you're in Sydney for the weekend, or just a couple of days, it is easy to get a lot of sightseeing done without feeling like you're spent all your life savings. By carefully planning your schedule and revising your spending habits, you can get a lot of visiting done in a short time.
photo credit: aussiegall cc