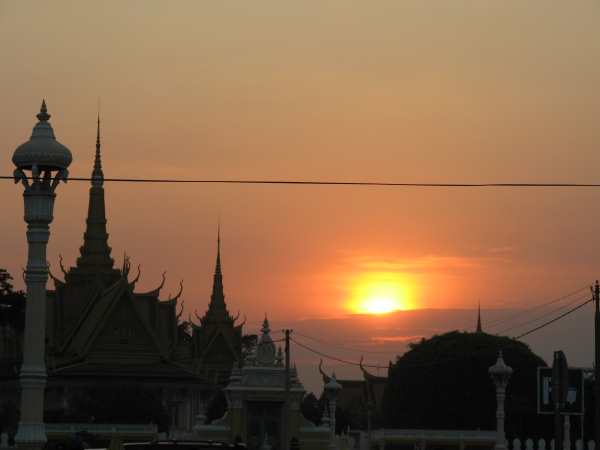 I have been travelling to Cambodia +/- Vietnam annually over the last 5 years. Each year I have got better at paring down my luggage so that it is much more manageable and I have room for other stuff. I do medical volunteer work in Cambodia so any spare room in my suitcase is used to bring donated medical equipment and medication to Cambodia.
I'll make it clear right here that I'm a "flash-packer", which means that I'm a budget traveller, but not one for dorm rooms.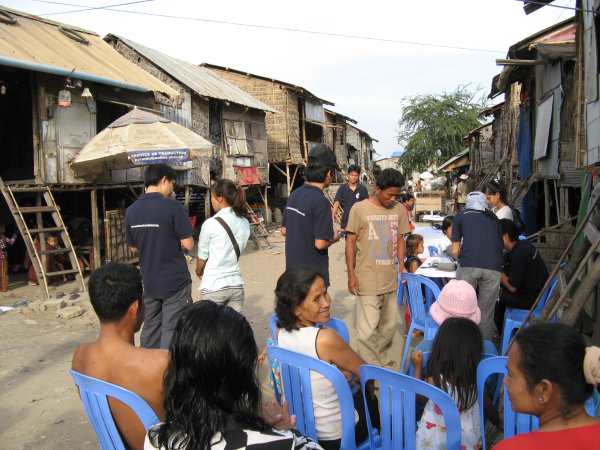 Mobile medical clinic in Phnom Pehn slum community
Firstly, if you can, get a "spinner" suitcase i.e one with 4 wheels, as they are much more agile and maneuverable than the traditional 2 wheel suitcases.
Secondly, remember you are going to hot countries where the temperatures rarely drop below 30 degrees Celsius ( other than North Vietmam which has cooler temperatures during the northern monsoon between October to April due to cold air coming down from China). I have learn that I only need to take one sweatshirt for the plane journey as the temperature is often set quite low on board.
I only take loose fitting cotton tops with me the Cambodia. I don't wear anything that is clingy like T-shirts or singlets as they just stick to your skin when you invariably sweat. Yughhh!! Because it is hot, three out of four of the cotton tops I take are short-sleeved but I also always take one long-sleeve cotton top to wear in the evenings when there are mosquitoes about. You could take two of these if you wished. I also take a loose fitting cotton dress which I wear a lot.
Generally I'm a pants girl so I pack two pairs of zip-off cargo trousers which I mostly wear as shorts. Again in the evenings I often turn them back into trousers to protect me from the "mozzies". Hey – they're not very attractive admittedly, but they are practical and comfortable.
Another thing I always bring with me is one of those hotel sewing kits – it has come in handy on many trips.
On my last 4 week trip to Cambodia I only took two pairs of shoes! My Teva sandals, and flip-flops. On previous trips I'd brought sneakers but I found that I only ever wore them on the plane because it was just too hot to wear them in Cambodia. Some people may still like to take some covered-in shoes because many of the streets are quite dusty and filthy, so I think that is reasonable.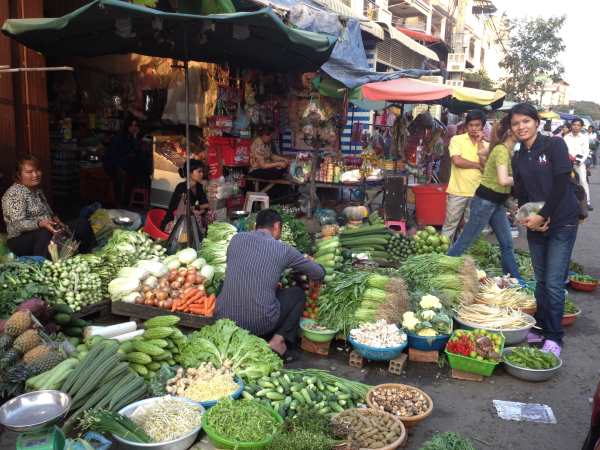 Local Market
If you think you might go out in the evenings to restaurants and bars, then you'll want to bring one smarter outfit + a nicer pair of sandals. Again, loose cotton is best.
I find that a considerable amount of my luggage space is taken up with electrical equipment these days. I take a carry-on backpack with a compartment for my laptop and adaptor, then there's the ipod and earphones, my universal plug-adaptor (very important), iphone and recharging connection, camera and recharger etc. For entertainment I always bring a book, but you can always buy very cheap English (rip-off) books at the big markets.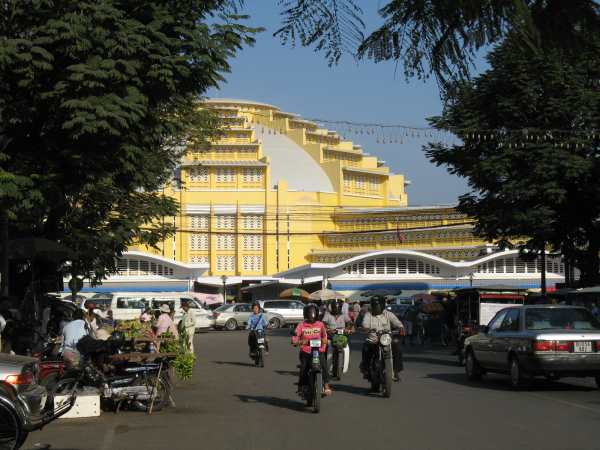 Central Market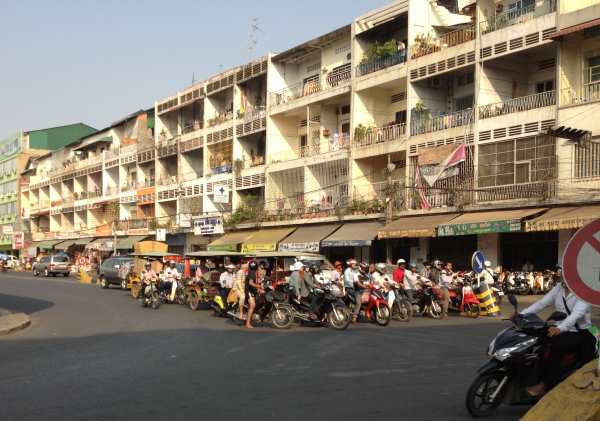 Busy street Phnom Penh
I hand-wash my clothes in the guest house every few days. I usually bring my own washing powder in a zip-lock bag but it is cheap to buy there. I have an elasticated clothes line with pegs attached that has suckers at each end so I can hang it across the bathroom.
You might want to bring a small collapsible umbrella with you for the occasional heavy down-pour but I would bother unless it was monsoon season, and again they are cheap to buy once you get there. It's way to hot for rain-coats.
I find it handy to bring a few samples of shampoo and conditioner with me, so I don't need to go buy them in the first few days.
Finally don't forget your insect repellent, suntan lotion, sun hat, sun-glasses and hand-sanitizer.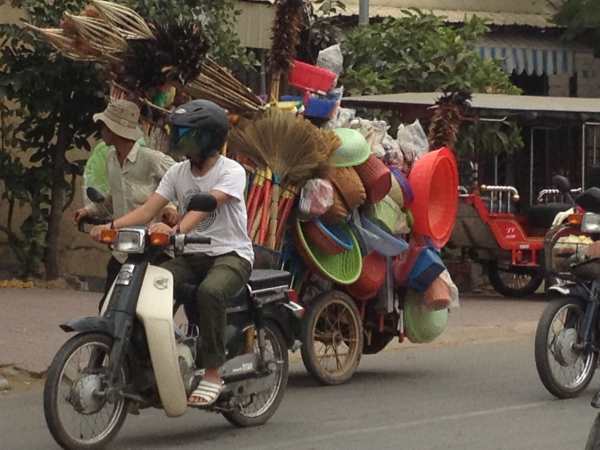 Street life Phnom Penh