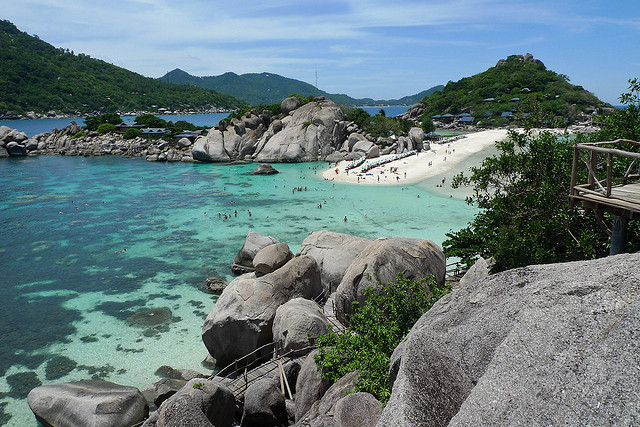 Koh Samui might not be as big as Phuket, but this island has just as many things to offer for visitors, from pristine beaches to imposing landmarks. Here are some of the places worth checking out:
Big Buddha Shrine: This large temple is a symbol of Koh Samui, and a must see for everyone. The temple is easily accessible and close to the airport, which means that it is one of the first landmarks you see when arriving at Koh Samui. The 12 metre Buddha statue which sits on top of the building also helps. The temple is also close to Bophut Beach, so you can save up a lot of time by visiting it in the morning and then head off to sunbathe in the afternoon.
Lamai Beach: This beach is famous for its interesting and amusing rock formations, especially Hin Ta and Hin Yai Rocks. A quick image search on the internet will tell you why, but it is best to travel and see these rocks for yourself. Nevertheless, tourists should also consider looking into the area for accommodation, especially if they're interested in water sports and spa treatments. The area is good for snorkelling, canoeing, and cycling.
Chaweng: This is another famous beach in Koh Samui worth visiting. It is the island's largest and most popular beach, but it somehow manages to remain unspoiled despite the amount of visitors and boats. The area has multiple resorts and some of the best bars and restaurants. Most of the bars and clubs are located around the so-called Green Mango Strip. Tourists can also check out Chaweng's Walking Street Market.
Namuang Waterfall: Koh Samui has several waterfalls, but this one is by far the most famous. The waterfall is made up of two cascades, Namuang 1 and, you guessed it, Namuang 2. Namouang is well-known for its purple rocks and cool water. Tourists often go there to swim, and organize small hiking trips to enjoy the views Koh Samui has to offer.
Secret Buddha Garden: If you're planning on travelling away from the coastline for the day, then you can definitely check out this tourist attraction. Located in the hilly region of the island, in the middle of the jungle, this set of statues is a welcome sight for those who simply want to relax and avoid the crowded beaches. Travelling to the garden on foot is difficult due to the bumpy roads, but this attraction is often included in local tour packages.
Hua Thanon Market: No trip to Koh Samui is complete without stopping by the local market. Hua Thanon Market might not be as spectacular as some of the other markets around the world, but it offers some insight into the island life of Koh Samui. The market is known for selling a variety of sweets, so you should definitely check out the sweet stalls and try some of the local dishes.
Wat Khunaram: This temple is known for housing a remarkably well-preserved mummy monk, which might interest those who want to learn more about Thai culture and customs. Interestingly enough, only the mummy's eyes were damaged, which is why they have been covered with a pair of sunglasses. However, there is more to Wat Khunaram than meets the eye (no pun intended). The temple welcomes tourists to take part in the daily rituals and prayers, or simply observe them.
Spirit House: Spirit House Restaurant is well-known in Chaweng for its delicious Thai dishes and music. However, what is special about this restaurant is the fact that it is built to resemble a Thai village, even adding a temple which tourists can visit. In addition to this, Spirit House also organizes and conducts Thai cooking classes. Also, to make things even better, the restaurant even has its own spa.
Whether you're thinking of staying in a lavish resort by the sea (for examples see the Telegraph's list of the Best Luxury Resorts in Ko Samui), or you're interested in exploring Koh Samui's nightlife, you are bound to have a lot of fun. Koh Samui might not be the biggest and most popular island out there, but it certainly has its perks.
photo credit: victoriapeckham cc